Playground Bar & Lounge is one of the earlier ingredients that helped raise the bar (no pun intended) of the formerly depressing and dreary downtown Tucson into the hip, happening place it is today.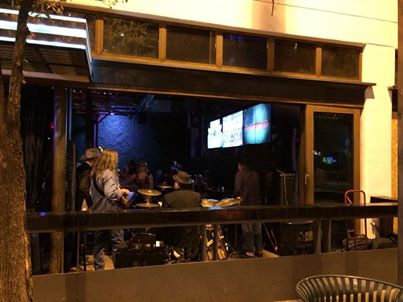 Playground hogs a big corner of the main drag just like a playground should. You can't miss it and just like a real playground, wander over to see what a good time can be had within its perimeter. If you look at the high ceiling, you'll see dozens of swings dangling, the kind of swings with real heavy chain links (flashback to hours of good clean fun). Oh, how you might wish for the age of innocence to return.
Then look at the expansive bar which fills up most the room, the surrounding seating, faux grass on the walls, and the widest TV screen on the planet. Let the fun begin.
This time you're a 21+ year old kid and you want craft cocktails. Here, a mad mixologist had the enterprising idea to bottle the cocktails in-house while some are on draft or traditionally, shaken or stirred.
And like kids of all ages, you get hungry. While the menu keeps changing, classic bar food twists and turns. For instance, chicken & waffles might make appearances around town, Playground changed the rules with chicken & French toast. Think crunchy chicken tenders with Hub wing sauce and batter-wrapped French toast sticks with maple syrup.
Cheese curds with Siracha ketchup could become addictive as well as fries with prime rib shavings or the BBQ pork fries with slaw, crispy onions and cheddar cheese. It's kid food for grownups and yes, a few salads if you must eat more veggies.
Do you want a more romantic and more private rendezvous? Then ask to be seated on the back patio where you can share your own cabana for two.
Sunday brunch, occasional barbecues, and special events are served up on the rooftop bar which could be the only one of its kind in Pima County. Kudos to whoever managed to get this high and mighty achievement approved by the building inspectors. As for those special events, think roof top concerts, movie nights, spelling bees, and much more. Let your inner child explore the many options that Playground has to offer.
With its own rear parking lot in downtown Tucson, Playground is definitely seductive real estate.  Playground is located at 278 E. Congress Street.