If you have been wondering what was going into the coveted restaurant space on the grounds at the newly renovated Westin La Paloma Resort and Spa, wonder no more as Poppy Kitchen has planted roots.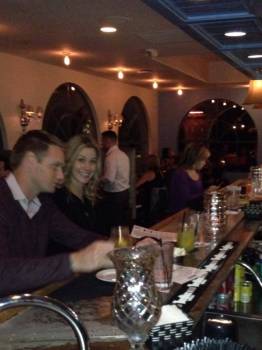 If the space looks vaguely familiar, Poppy Kitchen resides in the former J Bar. Instead of hot wild colors and Latin art, the room now has a Santa Monica vibe awash with refreshing blues, grays and whites, different textures, and splashes of vibrant colors. The space has been reconfigured to be more open; walls have been removed and there's not really a bad place to be seated.
From the patio, you can see the eighth green of the La Paloma Golf Course and on a clear day "A" Mountain and beyond, and at night, a blanket of twinkling lights in the valley below.
"Poppy Kitchen is my dream restaurant," says Brian Metzger, owner. "It's food that you want to eat and food that is more approachable."
Now about that food, Poppy Kitchen cures its own pancetta and bacon, which in turn produces a healthier product. They also make their own potato chips (Pringles move over!);  roast veggies for the caramelo (veggie quesadilla); and use delicious whole wheat (healthier) buns.
For those of you who worshipped the steamed mussels in spicy chorizo broth at JAX Kitchen, a Metzger Family Restaurant which recently closed, fret no more as these favorite mussels are on the Poppy menu.
I ate the charred octopus salad with BBQ glaze, red greens, watermelon, crispy onions and heirloom tomatoes. Wow! What a juxtaposition of flavors – the chewiness of the octopus, the sweet melon, the tangy Q, and crispiness. Each forkful was an exciting mouthful.
The "chicken Sammie" was dipped in pretzel crumbs, and then served on toast along with a few slices of bacon and lots of delicious chips.
Metzger's favorite protein is duck. Thusly, duck makes three appearances on the menu – the appetizer duck conserva; a side of duck fried rice made with red rice, duck confit, ginger, and egg; and the house specialty of duck breast.
For a margarita that is off the charts, try "the one," this margarita won first place in the World Margarita Championship a few years ago. It's made with Corazon tequila, orange + basil granita, simple syrup, fresh juice. The basil and citrus is a winning memorable flavor.
As for dessert, we abstained but another time will try their signature made-to-order carrot cake and chocolate tres leches cake.
Beginning today March 17, Poppy Kitchen will offer a "family supper," a family-style culinary experience anchored by a whole roasted chicken for two with sensational accompaniments for $45, plus a children's menu where all of the dishes are on the house. Family supper runs from 5 to 9:30 p.m. every Monday.
On March 22, Poppy Kitchen will start serving Saturday brunch, from 10 a.m. to 2:30 p.m. Are you ready for vegetable egg white frittata, steak + eggs with bacon hollandaise, fresh fruit crepes and house-smoked salmon plate with all the fixings?
Chef Ginny Wooters and Chef de Cuisine Pete Davis share Metgzer's vision and together they make an awesome team. Speaking of which, when JAX Kitchen closed, all the employees transitioned to Poppy Kitchen.