The world-class Accenture Match Play Championship returns to The Golf Club at Dove Mountain on February 17 - 23, 2014, in Marana, just north of Tucson. Sixty-four pro golfers will compete for this coveted championship.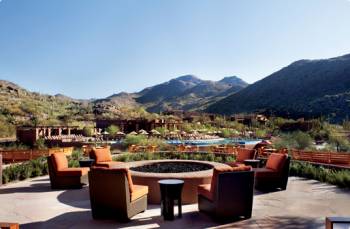 The Golf Club at Dove Mountain, located on the Ritz Carlton, Dove Mountain, is among 35 Ritz Carlton hotels and resorts which have been named "gold badge winners - best hotels in the USA" in the 2014 edition of U.S. News & World Report's Best Hotel Rankings, among other awards.
Before the crowds come, my BFF and I had the opportunity to dine at Cayton's for lunch. We sat outside overlooking the putting range where shining bleachers were already set up to watch the action. While Cayton's is billed as a burger bistro, it's the details that matter. For instance, a carafe of Peet's iced tea comes to the table and refilled as the ice melts. For sweeteners, try the agave syrup or prickly pear syrup, the latter less sweet than the agave.
Chef Chris English is a man of many stripes having cooked his way around the world and even farmed organic lettuce in Hawaii. Let's just say he traded one paradise for another as the scenery at Dove Mountain reflects a desert paradise from the multitude of changing flora and fauna and an emerald carpet of golf green within reach.
Lamb hails from Colorado but is freshly ground on the premises for a perfect meaty lamb burger (silence of the lamb) served medium rare. My salmon burger (reel me in), farmed sustainably in Vancouver, delivered the right amount of juicy-dense flavor with every bite. Add a generous serving of house-made spicy chile-lime potato chips and sweet potato fries. A word about the fries – they were practically oil-free because of a complex oil filtration system. While Chef English explained the scientific process, we could only nod our heads and savor the sweet potato moment.
Three chili hummus with fry bread, chopped salad, a bevy of burgers and sandwiches, tater tots and smoked ribs are just some of the tempting menu fare, as well as milkshakes for kids and adults, craft beer, wine and cocktails.
While we enjoyed sitting outside in extraordinary Arizona weather (during last year's tournament, it snowed!), the plush Southwest interior exudes an air of comfortable resort casualness. Cayton's is named after Eugene "Cush" Cayton, a rancher and a poet, whose property, the T Bench Bar Ranch, was the original Dove Mountain homestead in the Tortolita Mountains.
Chef English treated us to a flight of milkshakes for one of the best sweet tasting treats to pass through a straw…mocha, Thin Mint (yes, with crushed Girl Scout cookies), Elvis Left the Building (peanut butter and bananas drizzled with strawberry jelly) and Broken Heart (crushed pastel heart candies). What a delightful dessert.
Cayton's is open for lunch daily from 11 a.m. to 3 p.m.; dinner 5 to 8:30 p.m. on Wednesday through Saturday. The happy hour and bar menu starts at 3 p.m. daily; live music is Saturday 5:30 – 8:30 p.m. Groups can prearrange to dine in Cayton's private dining room, the Kiva Room, and the cozy wine cellar.
Cayton's is not open to the public during Accenture; other restaurants are and will be featured on Wednesday. Stay tuned…