Who would ever think that Tucson needs another taco joint? If that taco joint is anything like GIO, then Tucson needs more.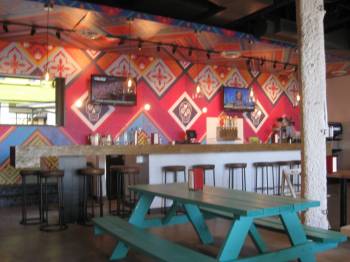 GIO is the newest addition to the burgeoning downtown dining scene. Its location couldn't be more perfect especially if you live in Cadence, brand-new off-campus student housing. Not only do students live in the lap of luxury but can parade up to GIO's takeout window and order food while poolside.
For the rest of us, we have to enter from the intersection of Congress/Toole/4th Avenue. Choices for dining are on the spacious patio or in the wildly playful interior bursting with splashes of colors designed by FORS Architecture+Interiors.
"When we were first inspired by the idea of doing tacos in Tucson a little differently, we knew they had to be done in a totally unexpected fashion," said Brian Metzger of Metzger Family Restaurants, which owns and operates GIO Taco. "We are so proud of this menu, which we believe is a real symbol of our 'no rules' mantra."
My dining buddy and I each ordered three tacos. She chose the traditional house-made corn tortilla while I opted for a butter lettuce leaf which is perfect for people wanting to eat less carbs or calories or needs more greens in their lives.
Her choices were Shrimp Curry (3 skewered/fried shrimp, fresh lime wheel, apple + raisin salad, red curry dressing), Duck Mole (cherry + chocolate mole, fresh cilantro, lime crema, blood orange segments), and Metzger Dip (shaved prime rib, horseradish aioli, melted mozzarella cheese curd, crispy mushrooms, mulato chili jus). A cup of vegetable soup with hominy was her side choice. This buffet of global flavors popped.
At the end of her meal she enthusiastically said, "Those are probably the three best tacos I've ever eaten!"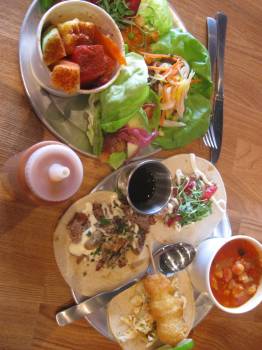 My picks included M's Veggie (melty cheese, butternut + chayote squash, smoked Fresno chili, Bibb lettuce cup), Korean BBQ (marinated beef short rib, mango + carrot slaw, pineapple soda, Bibb lettuce cup, and Fishy Pig (albacore tuna, crispy bacon, fresh avocado, street vendor corn, pickled onions). My tasty side beheld spears of fruits and veggies dusted with chili powder and a squeeze of lime. The spicy melty cheese turned crispy in M's veggie. Short ribs melted in my mouth and freshness and textures awakened my senses.
Should you have room for dessert, try the flavor of the day GIO pops, sweet empanadas stuffed with plantains, and chocolate-dipped churros.
For your liquid refreshment, check out the cocktails, artisan beers, and wine list. GIO infuses spirits and serves a variety of cocktails on tap – made with vodka, gin, tequila, rum, whiskey, and cachaca.
There's also a takeaway window for people who want to stop by from 8:30 to 11 a.m. weekdays for a breakfast burrito and coffee. GIO is open late on Thursday, Friday, and Saturday until 2:30 a.m.
Remember, no rules at GIO Taco.