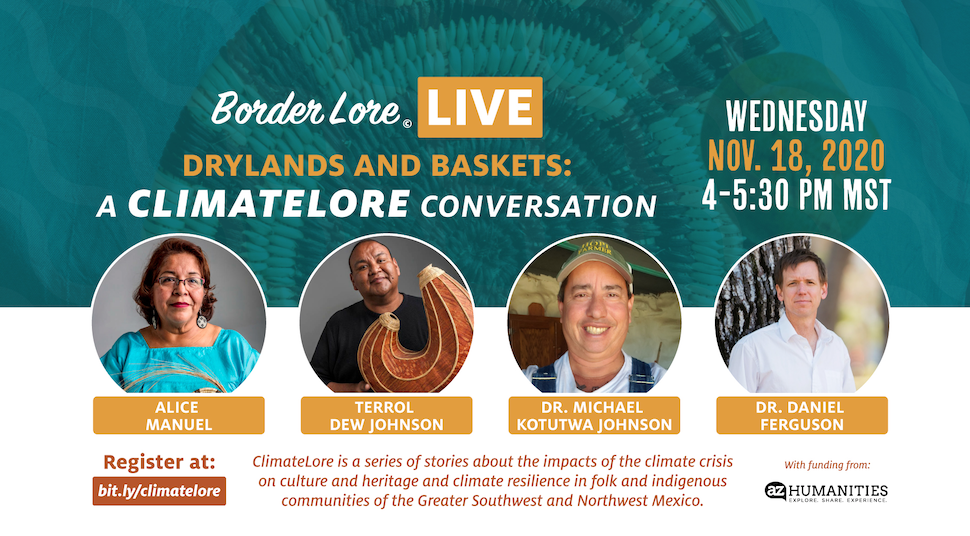 Southwest Folklife Alliance Presents "ClimateLore" a Conversation about the Intersections of Climate Change and Cultural Heritage
Join the Southwest Folklife Alliance (SFA) for a conversation with Indigenous culture bearers about the ways climactic and environmental changes are impacting their practices and how they are meeting those changes with resilience and adaptability. This live webinar, "Drylands and Baskets: A ClimateLore Conversation," draws from an ongoing series of investigations appearing in SFA's online journal BorderLore, exploring intersections of culture and climate. The series, called "ClimateLore," is funded, in part, by Arizona Humanities.
BorderLore managing editor Kimi Eisele hosts the live conversation with culture bearers featured in the journal since June, who will share stories of resilience amidst increasingly drier and hotter conditions in Arizona. They include Alice Manuel, a basket weaver in the Onk Akimel O'odham tradition and a member of the Salt River Pima-Maricopa Indian Community; Terrol Dew Johnson, a Tohono O'odham contemporary basket weaver, sculptor, and health advocate; Dr. Michael Kotutwa Johnson, member of the Hopi Tribe in Northern Arizona and a traditional drylands farmer. Dr. Daniel Ferguson, Assistant Professor in the Department of Environmental Science, Assistant Professor in the Arizona Institutes for Resilience, and Director of the Climate Assessment for the Southwest (CLIMAS) program at the University of Arizona, will share the larger regional context of climate change impacts and responses.
The goal of ClimateLore, Eisele says, is to make connections between the very real ecological shifts happening in the region with cultural practices that have long respected human relationships with nature. "These artists and farmers have critical perspectives that can shape how we think about climate change responses and mitigation. Their stories help us understand what is at risk of being lost amidst the climate crisis, but also highlight the ways Indigenous and traditional cultural knowledge have practiced adapting to change for hundreds of years. Without ignoring the realities of environmental change, they offer stories of long-time resilience that I think people will find helpful and hopeful," she says.
WHAT: Drylands and Baskets: A ClimateLore Conversation
WHEN: Wed. Nov. 18, 2020, 4:00-5:30pm
Free and open to the public. ASL Interpretation.

Register here:https://bit.ly/climatelore

View here: SFA YouTube Channel, SFA Facebook Video Page

Find more information at SouthwestFolklife.org