With more than 18 acres of corn, six miles of pathways and endless amounts of family friendly fun, Apple Annie's Corn Maze is the ideal place for people of all ages to celebrate the fall season.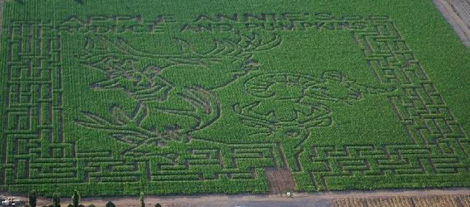 Located about 90 miles east of Tucson, in Willcox, Ariz., Apple Annie's Produce and Pumpkins is home to Arizona's largest corn maze. But twisting and turning through miles of secret pathways isn't the only adventure Apple Annie's has in store. From now until October 31, the family owned and operated business will have the following activities available to the public:
• $3 hayrides
• A pumpkin patch
• Snow cones
• Kettle corn
• Interactive passports that guide you through the maze
• Tours for student groups
• Three different maze difficulty levels spanning from about 20-40 minute travel times
Apple Annie's Produce and Pumpkins is available to entertain throughout the week as well. While some farms may charge a hefty price just to set foot on their land, Apple Annie's doesn't charge an entrance fee. You can choose to pick and purchase sunflowers, summer and winter squash, green beans, tomatoes and other fresh produce.

Apple Annie's is a family owned and operated business that began by selling apples from their orchard in 1986. It soon flourished to the business it is today. With an orchard and pumpkin patch at separate locations, weekend burger barn, a country gift shop and several other activities throughout the year, founders John and Annie Holcomb have created a family empire that serves good, clean fun.
Apple Annie's Orchard expanded in 2003 when it opened its second location, Apple Annie's Produce and Pumpkins which is host to the second annual corn maze, pumpkin patch and autumn festivities this year.
Entry to Apple Annie's Corn Maze is $7 for adults, $5 for ages 3-11, and children 2 and under get in for free. Hours are 10 a.m. to 4:30 p.m. on weekdays and 9 a.m. to 5:30 p.m. on weekends. For more information, visit www.appleannies.com.