Forget everything you think you know about Arizona casinos. If you've had the experiences we've had, they probably don't interest you. Between the standard long drive it takes to reach them, tchotchke-filled gift shops, smoky rooms, unimpressive fare and afterthought hotel rooms tacked on for good measure, these properties can leave a lot to be desired when it comes to creating an upscale guest experience. Well, prepare yourselves for an entirely new, ultra-luxe resort casino many have tried to accomplish in the Grand Canyon state to no avail- The brand-new Talking Stick Resort.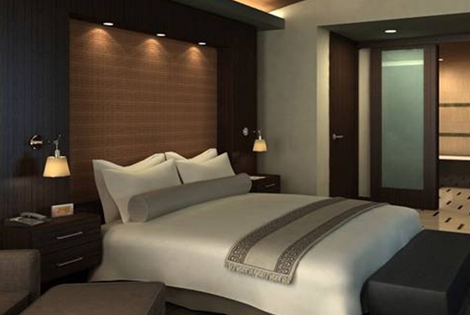 Arizona Foothills got a sneak peek- complete with hard hats and goggles- of the new high-rise, set to open in April in North Scottsdale- and this is not your typical Arizona Casino. Destined to draw in tourists and business travelers from across the globe and become a hot new stomping ground for AZ hipsters, the Talking Stick is light years ahead of the dingy blackjack tables we've all grown accustomed to. It's a resort- a remarkably chic, all-inclusive and hip resort, that just so happens to be connected to an incredible, new casino. One has to appreciate the great amount of planning that went into building such a balanced and multi-faceted resort, from the pool and landscaping on floor one to the sumptuous eatery on floor 15.
Astounding Accommodations
The property, conveniently located on the 101 and Indian Bend Road, has 497 non-smoking, deluxe hotel rooms, including 15 luxury suites and 38 executive suites with private terraces. Each suite features unexpectedly beautiful and modern decor in rich, neutral colors; no burnt sienna or faded turquoise stucco here. The unmistakable attention to detail is the first thing guests will notice as they walk the hallway to the suites. Rooms are placed in little nooks right off the hallway, presenting a sleek line free of clutter and unsightly room service trays. Suites have beautifully-tiled finishes in the bathrooms (many are complete with a heavy-duty tub and shower) and sleek lines. Guests will enjoy the essentials- a laptop-sized safe, Wi-fi and bottled water- all free of cost.
Glam Gaming
Wynn who? Resort visitors are greeted by a staggering 240,000 sq.-ft. of luxury gaming and amenity space. This area includes 900+ new slot machines, 50+ Blackjack tables, a high-stakes area and Keno lounge, most of which is open to guests 24 hours a day. The 50+ poker tables at Talking Stick Resort are home to several annual Poker Championship tournaments. The casino segues into the atrium- the heart of the resort- which connects the entrance, event space, gaming, outdoor areas and guest rooms in one central rotunda full of bustle.
Delicious Dining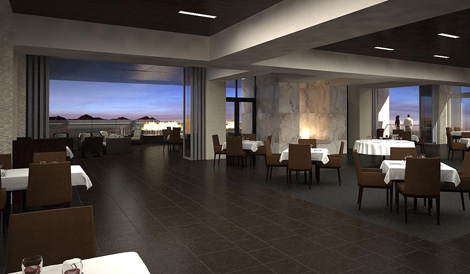 The resort houses more lounges and restaurants than you can shake a (talking) stick at; there are an astounding ten lounges and eight eateries, many of which have full menus available 24/7. The headliner Orange Sky- a restaurant and skybar on the 15th floor- is destined to become the hottest new date and hangout spot in North Scottsdale, complete with an open terrace and infinity pool. Other offerings include degree 270, a wine, chocolate and cheese lounge on the 15th floor; Ocean Trail, a nook where guests can enjoy drinks and bites of seafood; Players, an all-inclusive sports bar complete with a wall of TVs, Orange Sky Lounge, a traditional piano bar; Shadows, a men's scotch and cigar bar, a pool bar, nightclub and more.
Vibrant Venues
Locals and business-travelers alike will benefit from the fabulous catering options and the 100,000+ sq.-ft. of indoor and outdoor event space the property offers. Up to 2,000 guests can congregate for meetings, galas and everything in between in the numerous boardrooms and ballrooms. Party of 12? The resort has awesome alcoves in several of the restaurants that are perfect for smaller groups.
Rest & Relaxation
A far cry from other local casinos, the Talking Stick Resort has boundless leisure and entertainment opportunities, no matter what your interest. Those in the mood for R&R will enjoy the beautiful pools, perfect for relaxing or playing with the kiddos. A beautiful Saturday can be spent shopping in the resort's retail outlets, enjoying one of the two on-site championship golf courses or indulging in the sky, courtesy of the 13,000 sq.-ft. spa on the 14th floor. What could be better than a massage and cup of tea on a sunny terrace? After dinner, guests can step into the two-story, 750+ seat showroom, which will house live, top-rated musical and variety shows.
It's safe to say the Talking Stick Resort raises the bar for local casinos (and resorts!), and will breathe new life into beautiful North Scottsdale. For more information on the grand opening, keep your eyes on AZFoothills.com!
For more information visit www.talkingstickresort.com.