Eco Fun Land & Sea based in Puerto Penasco, Sonora Mexico provides rentals, beach activities and excursions for people looking for adventure when visiting the beaches of 'Rocky Point'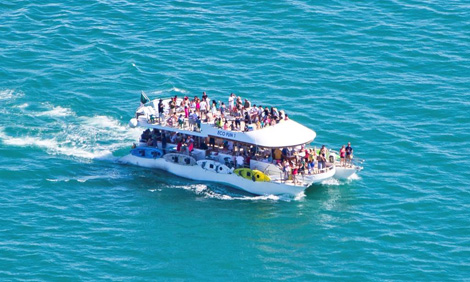 Having the San Jorge Islands just southeast of the Old Port allows Eco Fun 1 a 70' day catamaran to depart on daily excursions to anchor in Tranquility Cove for a few hours. Here the guest aboard will experience a large Sea Lion colony living among the shoreline either from the comfort of the two decks or they can partake in the Sea of Cortez with a kayak or snorkel gear. Having bar service for adults and kids with lunch served is a 'must do' when in Penasco.
If you are a 'land lubber' Eco Fun is proud to offer additional 'altitude' to the Pinacate Biosphere located north of town where the ancient volcanic lava flows mimics another planet. We will take you to the edge of the crater for a spectacular view of the 'edge of the earth'. Shuttled in 2012 passenger vans for a stop at Shuck Toak Visitors center then for a 45 mile drive into the pure Sonoran desert teaming with wildlife and floral. Bring your camera!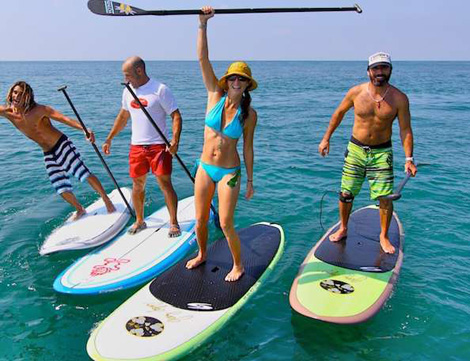 With presence at the Mayan Palace, Las Palomas on Sandy Beach, Old Port and our main office located in the Mirador Beach area (Baja Cantina Hotel) making us easy to find in person. Offering Town tours, kayak rentals, paddle boards, UTV's and much more makes your next vacation to Puerto Penasco more adventurous with Eco Fun Land & Sea Excursions.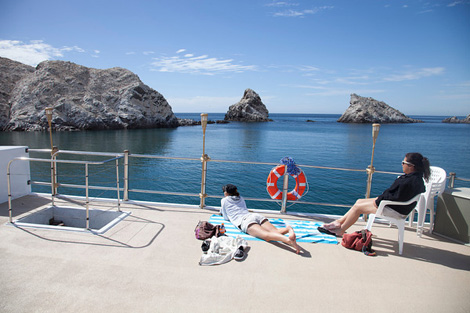 For additional information please contact our office (602) 635-3736 or dial 011 52 638 388-9699. Or e-mail This e-mail address is being protected from spambots. You need JavaScript enabled to view it