Q & A with Golf Legend Cristie Kerr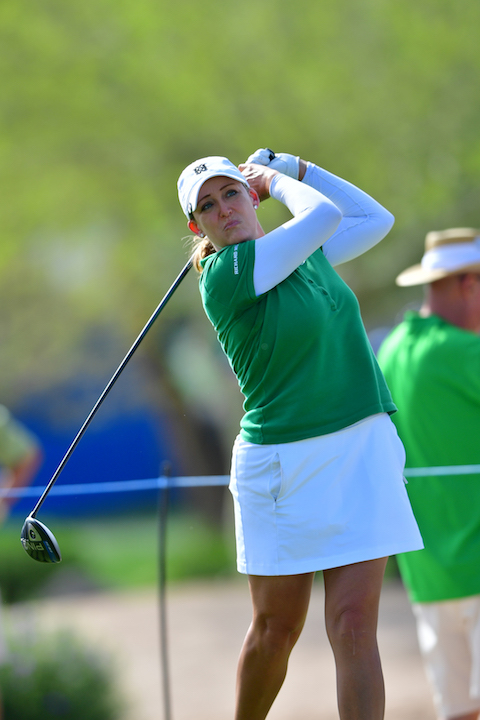 If you only know her for her title as the top-earning American player in LPGA history, you are basically just scratching the surface of the multitalented Cristie Kerr; she is a mom, a philanthropist, a wine connoisseur and a passionate and competitive spirit. Channeling one of the most challenging periods of her life into a positive light, Kerr created the nonprofit organization Birdies for Breast Cancer. Furthermore, she created a wine line, Kerr Cellars, as another method of donation toward breast cancer research. Like her wine, Kerr's career gets better with age. She is currently participating in her 20th season, ranked top 10 worldwide for LPGA players, and is currently the most winningest player in LPGA history having earned more than $19 million throughout her career. This year, Kerr will be participating in the 8th annual Bank of Hope Founders Cup in March at the Desert Ridge Marriott, right here in the Valley!
Here, the golf legend lets us take a peek into her busy life:
LAG: I see that you are originally from Miami, Florida. When did you move to the Valley permanently?
CK: After living here part-time starting in 2006, I moved to Scottsdale permanently in 2015. I love Arizona and the calm atmosphere it brings.
LAG: I also saw that you are a mom. How old are your kids? Would you promote golf to them?
CK: Currently, I have one son, Mason, he's 4, but we are trying to have another. I am very open to the sports he wants to pursue although it would be awesome for golf to be his number one. Right now, he loves going out to play with me. We are trying to get his backswing under control.
LAG: Are you attending the Phoenix Open?
KC: I think so. I don't go every year, but this year my coach is coming out so I think I will be walking around at some point.
LAG: Is the hardest part of the game mental or physical?
KC: The most challenging part of the game is neither mental or physical; it's to have a handle on both and not letting them affect each other. Golf is an ever-changing sport. There are so many factors and decisions that go into every swing and shot. It also isn't a team sport like soccer, where if you make a mistake someone can help to recover from it. So when you make a mistake you have to really focus on not letting it absorb your thoughts, because if it does, then it will affect your entire game. The one position in a sport I can think to compare it to is a pitcher in baseball. Although they have the support of their team, they hold a lot of power and a responsibility. The whole team is relying on them to throw the perfect pitch and that takes a lot of talent, yes, but it's about being mentally tough; so when you do make a mistake you know how to recover.
LAG: How often do you practice?
KC: I practice multiple times a week. Practice is extremely important. After every season, I take about six weeks off and when I return it is a mental grind to say the least. It feels like you are starting over at first. After a couple of weeks, you get back into the swing of things but it is very difficult at first.
LAG: What is your pre-round ritual?
KC: I usually arrive two and a half hours before to prepare mentally and get into the rhythm of a game. I start with rehab right when I get there, then practice my short game, hit and then putt.
LAG: Who did you look up to growing up? Who do you look up to now?
CK: Growing up, I looked up to the great female golfers such as Nancy Lopez and Betsy King, as well as professional male golfers such as Arnold Palmer and Fred Couples. I observed how they went about things and how they played the game. Also, I studied and was obsessed with the history of golf which had me inspired at a really young age. My parents were also part of the people I looked up to and I still do. My parents both were both extremely competitive in their respective sports. My dad played baseball and my mom was a swimmer. They instilled the discipline, hard work, and sportsmanship it takes to become a professional athlete and I am extremely grateful for that.
LAG: What would be your advice to young people striving to pursue golf as a professional after high school?

CK: I would have to recommend attending numerous golf tournaments to get a taste of what it is like. Watching golf is key for development. In order to be a professional athlete, a golfer, in particular, you have to LOVE it. You have to breathe it and live it. You have to be sitting up in the middle of the night and thinking about how you can improve specific factors of your game. You cannot be halfway determined; you have to be obsessed with it.
LAG: What are your favorite things to do in the Valley?

CK: A lot of my favorite things to do in the Valley are outdoorsy. I really like the golf, obviously, but I also like doing other outdoor activities. For example, my husband and I are planning a trip up to Sedona to take our Jeep off-roading on trails up there. Another thing I also really enjoy is having a relaxing day walking around Kierland Commons and eating at the restaurants there.
LAG: What is your favorite course in Arizona?

CK: We are part of the Silverleaf Golf Club in Scottsdale, so that one is my favorite one because it feels like home; but I also really like the Superstition Mountain Golf Course and the GCU Golf Course (originally the Maryvale Golf Course).
LAG: Tell me about the upcoming Bank of Hope Founders Cup coming up in March?
CK: The tournament will be held on March 13 to 18 at the Wildfire Golf Club at the JW Marriott Desert Ridge Resort and Spa. This eighth-annual event was created to honor the 13 founding women of the LPGA in 1950 as well as to help continue the growth of the LPGA-USGA Girls Golf Program. At the early stages of the event the participants played for free, which shows how dedicated we are to expand our growth.
LAG: I read a bit on the background and origination story of your nonprofit organization Birdies for Breast Cancer. Would you like to go more in depth about how you came up with the idea and any long-term plans?
CK: My aunt, godmother and mom have all had their fight with breast cancer, but 13 years ago, when mother was diagnosed, something clicked. It was very hard for me to watch her battle and sit idly by. I had to do something to help her, along with other women like my aunt and godmother, so I started my nonprofit organization Birdies for Breast Cancer. Birdies for Breast Cancer was very small in the beginning, I would give $50 for every birdie and people would match it. Now, we host the Celebrity Golf Classic where celebrities such as Morgan Pressel, Jerry Foltz and Sydnee Michaels play and donors make a pledge for every birdie by their favorite player. This year, the Celebrity Golf Classic will take place at the San Francisco Olympic Club and will hopefully stay there in upcoming years as the permanent home. We have had a lot of success with this organization. We have raised more than $3 million and have been honored with a dedicated health center in the Liberty Health Foundation at Jersey City Medical Center, Cristie Kerr Women's Health Center. A long-term goal would just be continuing to expand and raising as much money as possible for breast cancer awareness, research and the women battling.
LAG: So I see that you are a bit of a wine connoisseur. Where did your idea to expand your entrepreneurial spirit come into play?
CK: My idea came from the fact that I love Napa Valley. I have had multiple tournaments there and I love the experience and peacefulness of the vineyards. I partnered up with Pride Mountain Vineyard co-owner Suzanne Pride Bryan and created Kerr Cellars and Curvature Wines. The objective was to make amazing wine while raising awareness and funding for the fight against breast cancer. Our wines have been served in some of the most distinguished restaurants and establishments, including the White House, which was a huge honor. The new label for Kerr Cellars is not sold out yet and that is definitely a goal of mine. So to promote my new wine collection I am hosting a wine tasting event at Brix Wine in Cave Creek to have residents of the Valley get a chance to experience it and hopefully want to sign up for the wine club. (To learn more about Kerr Cellars, click here)
LAG: Have you gone wine tasting in the Valley? If so, what is your go-to spot?
CK: I actually have not gone wine tasting in the Valley because I am in Napa so much with Kerr Cellars, but I would love to start.
LAG: What are your most memorable moments on the green, as a mom and as a philanthropist?
CK: Wow, honestly there are so many, but on the green, I would say that one of my proudest and most memorable moments was winning the U.S. Women's Open. As a mom, would be winning my first tournament as a mother; it was the KIA Classic and it was an amazing feeling to share it with my newly expanded family. As a philanthropist, the groundbreaking of the health center was epic! It is not every day a wing of a hospital is named after you, and it was just an amazing moment, not only for myself but for the entire organization and everyone it benefits.
LAG: What are the top three most recently played songs on your music app of choice?
CK: Since Mason was born, I feel like I have fallen so behind on music but three of my favorite songs right now are "What Lovers Do" by Maroon 5, "Cocoon" by Milky Chance and "Can't Keep My Hands to Myself" by Selena Gomez.
LAG: If a movie was going to be created based on you, who would you want to play the lead?
CK: Kate Winselt, for sure.
To wrap up, Kerr prides herself by describing her wine as the "hallmark trifecta" of balance, elegance and depth. After speaking with her and getting a glimpse of what she does, it is safe to say that she holds herself to those same standards. Her love for her family and sport, entrepreneurial spirit and philanthropic work is a great embodiment of balance, elegance and depth.