This holiday season and New Year, giving the gift of new possibilities (on the course and on the scorecard) is the optimal way to tee off 2009.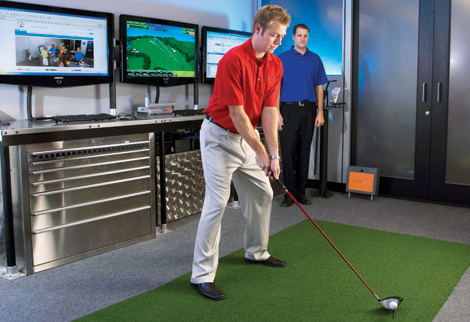 Many New Year's resolutions will be set in the forthcoming weeks, and several will undoubtedly concern improving one's golf game over the course of the next 365 days. But in some cases, all the practice in the world can't make up for inadequacies that may be lurking in your golf bag. Here in the Valley, we are lucky to have several golf equipment connoisseurs within club's reach. Whether it's as a supplement to your own new year's bogey-betterment plan or a gift for the devoted duffer in your family, you can never go wrong giving the gift of a better game (or at least the potential for it).
Scott Foster, vice president of operations for Scottsdale-based Cool Clubs, says it's important to understand the benefits associated with proper fitting equipment.
"Really, we want to be educating people about why they should be getting fit," Foster says. "I think that one of the major misconceptions, that [club fitting] is only for somebody who is an advanced player. And that is really not the case."
Foster stresses that getting fit for equipment is an investment worth making for avid golfers of any handicap who desire to play better. "If you care about your game and you want to improve, it is definitely worth going through some kind of club fitting—whether that's with us or through anybody else before you purchase equipment," Foster says.
Some commonalities in the club-fitting arena ensure that more often than not, a type of computer analysis system or launch monitor will play an integral role in your club-fitting process. Of course, an experienced and knowledgeable fitter is the most important aspect of any fitting.
One unique fitting that pulls out all the stops is Hot Stix's Game Fitting at Legend Trails Golf Club. The fitting encompasses every component of the bag from driver to putter and places the client in real-life shot situations evaluated by an experienced fitter. Though pricey ($795) and timely (taking approximately four hours to complete), the Game Fitting's comprehensive nature ensures all aspects of your game are fit to a tee.
John German, director of East Coast operations for Hot Stix, says the company definitely sees a spike in sales this time of year as clients cash in gift cards they received over the holidays.
"Some people don't really know what to expect," German says. "They have heard about us, or maybe had a friend come and go through the experience. When they come in, it just blows them out of the water and completely exceeds their expectations in every way. They didn't realize that golf equipment could be taken to this level."