Hawaii native turned Scottsdale resident, PGA Tour Player Parker McLachlin keeps the island spirit alive in the Valley of the Sun.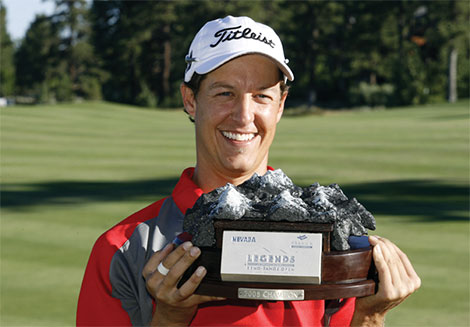 It was as an 8-year-old boy growing up in Honolulu that Parker McLachlin, now 29, had his first glimpse into the game.
"My dad had a bunch of buddies who had sons that were my age and all the dads thought it would be cool to have the kids get together for a group lesson down at the golf course," McLachlin recalls. "I think there were six of us, and once a week we'd go to the golf course and the head pro would give us lessons. That was kind of how it kicked off."
And kick off it did. In only his second season on the PGA Tour, McLachlin stole the show last August at the Legends Reno-Tahoe Open with a run-away victory, claiming his first PGA Tour title with a seven stroke lead over the field. As one of only three Hawaiians to ever win on Tour, (the others being David Isii and Kaneohe native Dean Wilson) McLachlin is elated about representing the Aloha state. "It is something pretty unique and special because Hawaii is such a golf-oriented place," he says. "It means so much to the people there to have players like Dean and myself representing them on Tour."
McLachlin's win incited roars of excitement among golf fans on the islands. "It was pretty wild," McLachlin says of the reactions he received. "I remember getting a couple emails from some of these local guys that said, 'Hey, we just wanted to tell you the story of how we watched you win today.' One guy said, 'We played golf at a local course today and when we went in to have lunch everybody was watching you play. It sounded more like a football game in there than a golf tournament. Every time you made a putt the whole place would go crazy.' To hear those kinds of stories, it's like 'Wow.'"
McLachlin says the potential for sealing the deal on his first win became a reality near the end of the third round of play. "I remember on the 16th hole on Saturday—it was a par 3—I hit my shot and the wind took it over the green. It could have bounced into the bushes but instead it hit a rock and came toward the green on the grass. I chipped it up and made par when I could have made double bogey or worse. You hear about those things from other players, that when you get those kinds of good breaks it is your week to win. That was one of those moments where I thought, 'Ok, it's my turn.'"
McLachlin's early success on Tour is likely a reflection of the years he spent preparing for golf's main stage. After turning pro in the fall of 2003 and only making it past the first stage of PGA Tour Qualifying School, McLachlin spent 2004 and 2005 navigating mini tours in various regions of the United States.
"My thought was this is preparation time," says McLachlin, who resides in Scottsdale with his wife, Kristy. "I didn't want to sit in one spot or play on one tour where you are sleeping in your own bed every night because that is not really what Tour life is like." Instead, McLachlin played on four mini tours: the Spanos Tour, Gateway Tour, Hooters Tour and Tight Lies Tour, winning a title on each. "I wanted to simulate what it was going to be like on Tour. It's different when you are in Podunk little towns. I remember one town I played in was called Booneville, Indiana and it was like, 'Ok, we really are in the boondocks.' But, you have to go through that process to get to where you eventually want to end up."
In 2006, after a full season on the Nationwide Tour, a 29th place finish on the money list earned McLachlin a bid to the final stage of PGA Tour Qualifying School. Making it through Q-School, McLachlin enjoyed his rookie season on Tour in 2007 before having to fight for his 2008 Tour Card after placing 137th on the money list. Successfully making it through Q-School and earning his card for the 2008 season, his win in Reno last year secured his presence on Tour through 2010.
McLachlin attributes his athletic nature to his family's interest in all things sports. "We are all very athletic oriented," says McLachlin, whose mother, Beth, was a former Olympic Volleyball player and father, Chris, was an athlete at Stanford. "Whenever the choice came between the ball and the books, I always chose the ball. It didn't matter what kind of ball?football, basketball, volleyball."
His easy going, laid-back style parlays hit zest for living in the moment, a character trait seemingly consistent with some of his familial fans.
"The craziest fans are probably my extended family," McLachlin says. "I have a couple of uncles who are firefighters in Huntington Beach and over the years of my career progressing, they started a beer for birdies club. Every time I make a birdie, they go have a beer. At the Sony Open, they recruited maybe 12 or 15 people into their beers for birdies club. If I was having a rough day, they'd reverse it and have a beer [first] so that I would make a birdie."
This month, with the FBR Open upon us, McLachlin's beers for birdies fan section will likely be found on or near the famed 16th hole at TPC Scottsdale. Known for its party atmosphere, this year's 16th will be completely encircled by stands; enhancing viewership and creating an even larger intimidation factor for the Tour pros teeing up there.
"It's a simple hole but it becomes so much more challenging when you know if you miss the green, you are going to get booed," McLachlin says. "It's one of the most unique feelings I've had on a golf course. Teeing up on that hole on Saturday [2008], I hit a great shot in there to about eight feet and the crowd went crazy. I took my hat off and was firing up the crowd. I get up there, miss the putt and they start booing me. Fickle crowd, but that is the thing you love about it. It's just one of those places you can't replicate anywhere else."
In addition to renovating the new home he and his wife recently purchased in Paradise Valley, McLachlin's ambitions include eventual participation in Ryder and President's Cups, positioning himself in contention more often and playing in more majors.
"When you are playing in those tournaments, you know that you have earned your way there," McLachlin says. "That means you are doing lots of things right."