A leave-everything-and-grab-your-clubs deal just dropped onto my golf radar. While twilight golf doesn't typically begin until the early hours of the afternoon, the JW Marriott Desert Ridge Resort and Spa is offering twilight rates starting mid-morning.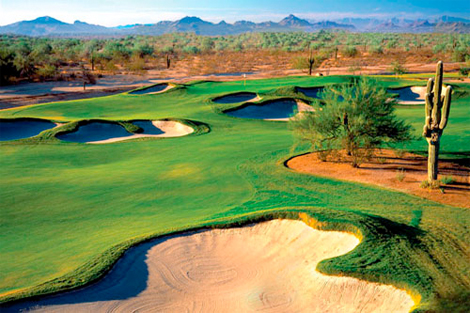 Wildfire Golf Club at JW Marriott Desert Ridge Resort & Spa is offering a cool twilight golf rate of $49 on its Faldo and Palmer courses starting at 10:30 a.m. daily through September 16th.
The value of the summer golf at this particular Marriott property becomes evident upon inspection of note-worthy designers of its two championship courses. The par-71 Faldo Course was designed by three-time Masters and three-time British Open champ Nick Faldo and features a total of 6,846 yards, generous fairways and ample landing areas.
Adding a complimentary contrast to the property is the 7,145-yard, par 72 Palmer Course, designed by Arnold Palmer. The Palmer course is situated in the rugged Sonoran desert and meanders through picturesque arroyos with centuries-old Saguaro cacti and sweeping views of the McDowell Mountains.
Of course, desert dwellers know that even in the wee hours of the morning, the Arizona sun can dominate an otherwise perfect round. For duffers desiring to stay cool, indoor virtual golf might be the ticket to keeping your game on track.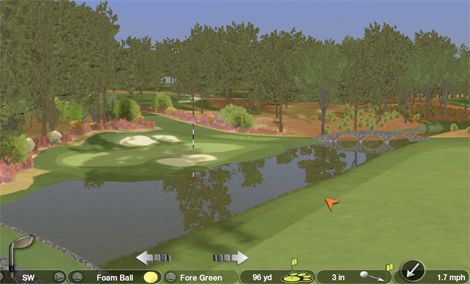 New from Dancin' Dog Golf is the OptiShot Simulator that affords golfers the opportunity to team up and play a round on some of the world's most famous courses. A refreshing divergence from the uber-expensive simulators on the market, the OptiShot manages to maintain affordability (it retails for $400) through a Window's interface rather than a movie theater-sized screen. Players can use their own clubs and with or without a ball play an entire round from the air-conditioned comfort of their own homes.
The system operates on infrared sensors embedded on a swing pad that record swing speed, face angle and swing path. From there, the experience is like any other simulator where you track the ball and learn about a particular shot's stats.
To Learn More
JW Marriott Desert Ridge Resort & Spa, 800.835.6206 or visit www.jwdesertridgeresort.com.
OptiShot Simulator by Dancin' Dogg Golf, www.dancingdogg.com.