Amy Bockerstette and her foundation, I GOT THIS, is changing the way in which athletes with intellectual disabilities are learning the game.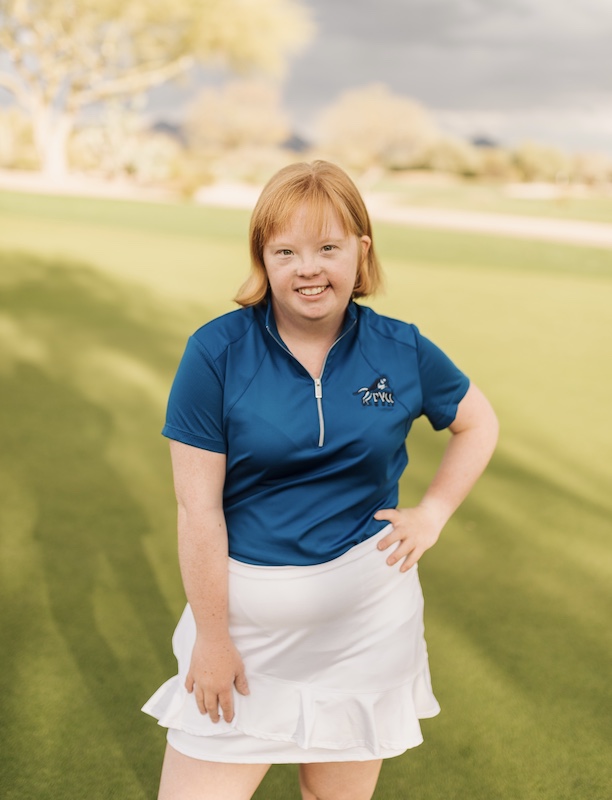 Photo: Amy Bockerstette
Life loves to throw curveballs. One second, you're flying high, on top of the world, and feeling like life is happening for you. Next, you're stressed, overworked and feeling like everything terrible is happening to you. When this happens, a simple change in perspective can greatly influence everything. For Amy Bockerstette, no matter the challenge, she tells herself, "I got this."
Back in 2019, at a WM Phoenix Open practice round, Amy, the first-ever athlete with Down syndrome to receive a college athletic scholarship and the first-ever athlete with Down syndrome to compete in the national collegiate championship, hit the famous 16th-hole par-3 tee shot into a bunker. Unphased, Amy said to herself, "I got this" before hitting the shot out of the sand to within eight feet of the hole. After sinking the difficult shot, the crowd went absolutely wild. But for Amy, it wasn't a surprise. She knew she had it.
This incredible moment was seen front and center by many on social media. But other backstage "I got this" moments are continuing to make an even bigger impact. Later in 2019, Bockerstette went on to launch the I GOT THIS (IGT) Foundation, a nonprofit dedicated to teaching individuals with Down syndrome and other intellectual disabilities how to play golf.
"I actually started the I GOT THIS Foundation [on] my 21st birthday . . . to pay it forward," says Bockerstette.
Tracey Hupko, the executive director of the I GOT THIS Foundation, says that inclusivity has increased in the sports world, yet there is still more to be done, which is where IGT comes in.
"Today we see more and more people with physical and intellectual impairments becoming more involved in sports," says Hupko. "Our work focuses on how to connect and communicate with our athletes to best deliver a method of instruction that will positively impact their performance on and off the course."
One way they're moving the needle forward? Their IGT Golf Academy. Launched in Phoenix, the six-week program provides athletes (and a playing partner) with a toolbox filled with instructions, equipment and everything else they might need to conquer the sport. Combined with professional instructors, the athletes have the chance to learn the fundamentals, such as stance and grip and building motion.
"Our IGT Golf Academy offers professional instruction with a 6-to-1 athlete instructor ratio," says Hupko. "Such professional instruction builds a foundation of skills that will allow more playing opportunities such as participating in Special Olympics, on school teams and, most importantly, an opportunity to make memories with families and friends."
And you don't have to live in Phoenix to participate. While Valley applicants might get the chance to chat with the "Amazing Amy," athletes in other states will also get the opportunity to experience the IGT Golf Academy in 2023 when it partners with Touchstone Golf and XXIO to sponsor 12 academies nationwide.
"It's a privilege. I'm telling you, this whole journey's just been an incredible privilege," says Amy's father, Joe Bockerstette. "She [Amy] has a gift that who could have ever predicted that a girl with Down syndrome would have the sort of coordination and capability to hit a golf ball the way she does."
As for Amy's next endeavors—a busy 2023 golf schedule, musical theater pursuits, like Shrek the Musical JR, and, perhaps, even a potential podcast—one thing is for certain. Her "I got this mentality" will endure.
Learn more about the I GOT THIS Foundation at this link.
This feature is in our special edition IN AZ 2023 issue. Read the full issue online here for more inside intel on where to stay, dine and everything in between IN AZ this sporting event season.