If you are still mulling over what to get dad for father's day, the ultimate gift is just a tee time away.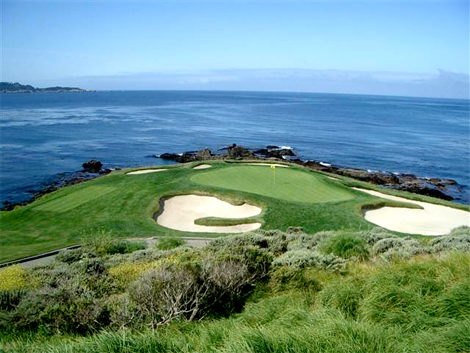 Any dad would be thrilled to get the opportunity to play a Major championship golf course, let alone play one when it is in tournament condition. That is, however, the offer on the table. With the US Open occurring next week at Pebble Beach Golf Links, golfers can tee up before and after tournament week to see what the course is like at a major championship. Since Pebble Beach is atop most golfer's must-play lists, a round at Pebble will surely be a gift dad will remember.
Rounds are available now through July 6, with the exception of the championship week (June 14-20), giving golfers a chance to experience this national treasure under ultimate playing conditions.
Regarded as one of the greatest venues in U.S. Open history, Pebble Beach has been the site of four previous U.S. Open Championships, as well as the PGA Championship, crowning a Who's Who of major champions – Jack Nicklaus (1972 Open), Lanny Wadkins (1977 PGA), Tom Watson (1982 Open), Tom Kite (1992 Open) and Tiger Woods (2000 Open).
Under the direction of Arnold Palmer, the Pebble Beach Golf Links has been strengthened and lengthened to 7,040 yards. With fairways now pushed closer to the coastline, the Pacific Ocean is no longer just a beautiful backdrop, but a prominent feature on all coastal holes. Enhancements have been made to four greens, 11 tees and 16 bunkers. In addition, six holes have had trees added or repositioned to add strategic value to the layout.
Palmer's goal was simple: maintain the integrity and historic shot values of this American jewel while challenging today's standard of players and equipment.
The best part about it, is that this opportunity is available to anyone who wants to know what it's like to play championship golf on a U.S. Open course – one that also just happens to be one of the world's great golf venues.
To learn more, visit www.PebbleBeach.com or call 800.654.9300.