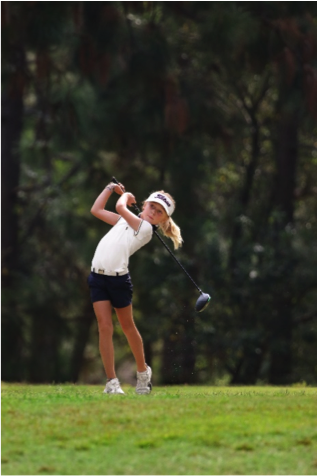 Beau Ellington became one of only three girls in Arizona history to win the title in Pinehurst, North Carolina earlier this month.
Ask 7-year-old Beau Ellington of Paradise Valley what she likes to do most often and her answer may surprise you. "I like to golf, fish and swim," she says, but this last weekend it was clearly her golfing abilities that took center stage.
Competing against youth golfers from around the world, Ellington was named World Champion of the 7 and under division August 3rd at the US Kids World Golf Championships held at the home of American golf in Pinehurst, North Carolina.
Often referred to as the most prestigious tournament of the year, participants must qualify and be invited to participate. Ellington competed against the best 7-and-under female junior golfers in the world from 51 different countries.
"Winning was so cool, but I especially enjoyed meeting kids from all around the world who share my love for golf. I have so many new pen pals like my buddy Sabrina Wong from Hong Kong."
The accomplishment is a big one, even for Ellington. Her parents say she has had a golf club in her hand since she was 2 years old. The Paradise Valley leftie attends All Saints Episcopal Day School and practices afternoons at McCormick Ranch and Camelback Country Club. Inspired by her grandfather Mark Coward, a retired pro, Ellington trains alongside her best friend, two-time World Champion Gracie McGovern.
Both Ellington and McGovern are coached by McGovern's father Sean, who also doubles as their caddy. The friends now hold a unique distinction as being two of only three girls from Arizona to ever win the world championship title, the other being LPGA player Cheyanne Woods, the niece of Tiger Woods.
In addition to World Champion, Ellington is also the US Kids Arizona State Champion and the US Kids Tour Player Champion. Ellington's final scores after three rounds were 42-32-34 finishing even par. Finishing second in her division was a golfer from Brazil, followed by other golfers from Japan, Hong Kong and Ecuador, who rounded out the top five.
Ellington concluded her acceptance speech with a nod to fellow golfers like herself. "This one is for all the "lefties" out there!"
The 7 year old says she would love to continue to play golf one day in high school, college and maybe on the LPGA. "I love being outside and the challenge of golf," she said. "It's fun trying to get that tiny ball in that little hole."
Follow Ellington on Instagram @BeauEllingtonGolf.