Page 1 of 4
It's pretty easy to see why the Pretty Woman fell in love with this New Mexico mountain town.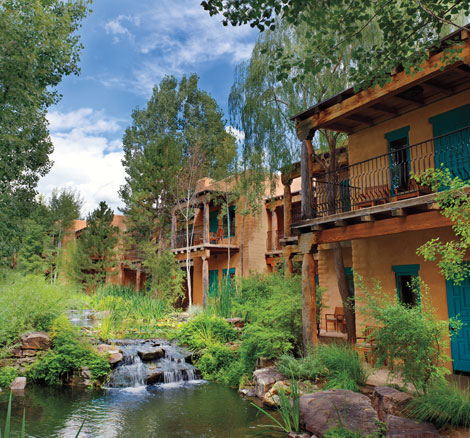 LIVING LEGEND:
Eco-chic El Monte Sagrado provides a restful respite in the town Julia Roberts calls home.
OK, so Julia Roberts wasn't the main reason I was in Taos. I was there for an outdoorsy adventure you can only get in a mountain town like Taos with its multitude of off-the-beaten-path trails. Yes, there's skiing, but there's also snowshoeing, mountain biking and llama trekking (more on that later). But the celebrity-spotter in me craved a glimpse of the Pretty Woman—and with a population of only 5,000, there weren't too many degrees of separation.
As soon as I arrived, I could see why Mrs. Danny Moder bought a 40-acre ranch on the outskirts—and why she had her Independence  Day wedding here. Cruising down the main drag, a charming collection of galleries and more galleries (there were a few knick-knack shops, boutiques and quaint restaurants interspersed), no one was madly texting or speeding through yellows. There's an anti-hustle and bustle about the place. Plus, it doesn't have the pomp and circumstance, or Mariah Carey sightings, of Aspen. I instantly felt calmer.
Last Updated ( Wednesday, 16 January 2013 17:04 )