Page 2 of 2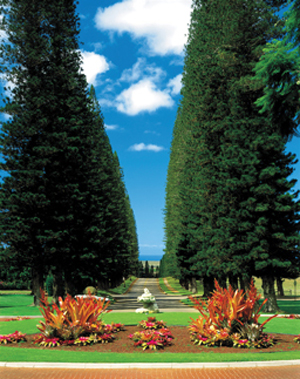 Luxe lodge: Sky-scraping trees and pretty gardens decorate the grounds at Four Seasons Resort Lana`i, The Lodge at Koele.
our Seasons Resort Lana`i, The Lodge at Koele Though only a few-minute drive from its sister property, Four Seasons Resort Lana`i, The Lodge at Koele, is a stark contrast from the beachy appeal of Manele Bay. The Lodge seems to be plucked from the pages of a fairy-tale, comprising a sprawling estate, with 101 guestrooms and suites, surrounded by lush, colorful gardens, tall trees, a beautiful golf course and a fish-filled reflecting pond. The tropical-inspired accommodations, each with its own private lanai, are just as eye-popping.
Though many travel to The Lodge at Koele to take a swing at The Experience at Koele, the resort's respected Greg Norman-designed course, guests soon find out that the property offers days-worth of other outdoor pursuits. Apart from tennis courts and a fabulous pool (where guests are surprised with complimentary snacks, drinks and cool towels throughout the day), Koele offers a slew of family-friendly lawn games, from lawn bowling to croquet to a putting course. Once-in-a-lifetime horseback riding opportunities draw many equine enthusiasts of all experience levels, as the wooded trails offer jaw-dropping views, and the horses are as gentle as they are majestic. Cultural activities (think lei-making and ukulele lessons) are also popular attractions at the resort. Because all that swinging and horsing around is bound to result in some soreness, the Banyan Spa Suite is a prime place to book a muscle-melting massage. (Koele doesn't have its own spa; however, the pamper pros at Manele Bay are available to perform treatments in its sister resort's on-site suite.) Or for a one-of-a-kind souvenir, the Four Seasons spa offers custom fragrance-blending sessions, allowing guests—with the direction of a spa professional—to craft a scent that is unique to them using oils from Ajne Rare & Precious. (Celebs have been known to stop by Ajne's shop in Carmel, Calif., to craft their own custom blend.) After a few simple questions, the spa pro leads participants through a scent experience and, right in front of their eyes, creates an all-natural, plant-derived fragrance for the guest to take home—in a gold, filigree-accented bottle, no less.
As at Manele Bay, the dining at Koele is a vacation highlight. The menu at the American bistro, Terrace, spotlights local ingredients in dishes like the Belgian waffle topped with golden Maui pineapple syrup or the popular Maui onion soup. For a more fine dining experience, the Dining Room offers a limited but luxurious bill of fare that boasts Keahole lobster with whipped potatoes, and lava rock-seared Kobe wagyu beef. And the best way to wash down such elegant eats is with Koele's mouthwatering guava-mint mojito. Now if only you were able to stow a few sips in your suitcase.
Motorin'
While massages and mojitos sure are nice, the best way to make yourself at home on Lana`i is to hit the road. Though the itty bitty island has only 30 miles of paved roads, visitors can explore the 100-plus miles of unpaved trails via a Jeep courtesy of Dollar Rent a Car (next to Lana`i's only gas station). One of the most popular off-roading destinations is the peaceful Garden of the Gods, a breathtaking collection of rock formations that offers vivid views of neighboring islands as well as a chance to take a deep breath and soak in the aloha spirit. www.dollarlanai.com.
LEARN MORE
Four Seasons Resort Lana`i, The Lodge at Koele www.fourseasons.com/koele.
Four Seasons Resort Lana`i at Manele Bay www.fourseasons.com/manelebay.
Last Updated ( Wednesday, 18 April 2012 08:57 )