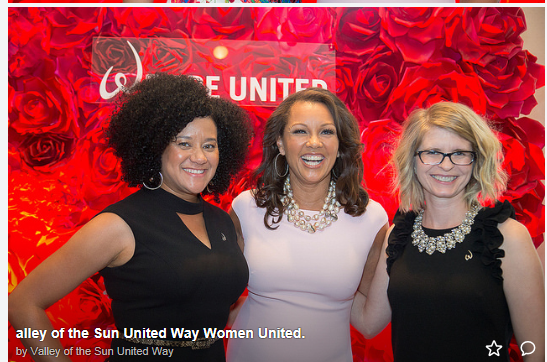 Multi-talented Vanessa Williams candidly shared stories of her life at the Valley of the Sun United Way's annual luncheon. Even breaking out in song at times, ("Save the Best For Last") she chatted about everything from her Miss America crown being taken away - to today's hunger issues. Not only did an impressive guest list of 1,000 turn out for Women United "We are UNITED " - but a record-breaking $378,000 was raised.
Pictured above with Vanessa are Latasha Causey and Jenny Holsman Tetreault - - the dynamic duo who are co-chairs of United Way's "Women United" group and were co-chairs of the luncheon of which the presenting sponsor was USAA.
Funds raised from the event will benefit two of the organization's crucial programs that aim to eliminate hunger amongst school children — WeekEnd Hunger Backpacks and Breakfast in the Classroom. The funds raised at the luncheon will help support over 200,000 meals to children and families in need.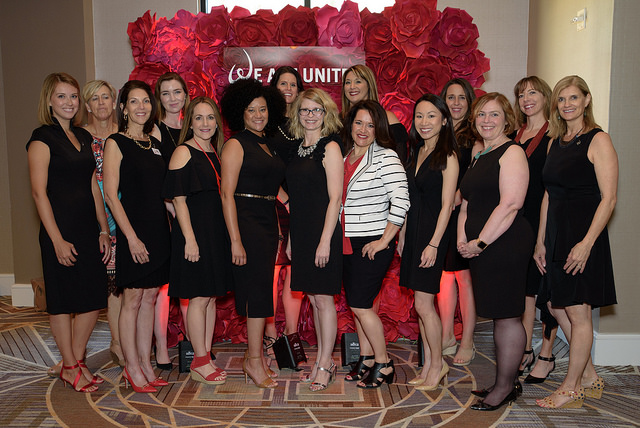 Pictured above are members of the local 'Women United". The group embraces the philanthropic spirit of Frances Wisebart Jacobs, founder of the nation's first United Way, 125 years ago. The influential women of the 'Women United', advocate to support United Way by giving, volunteering, and inspiring others to join in breaking the cycle of poverty in our community.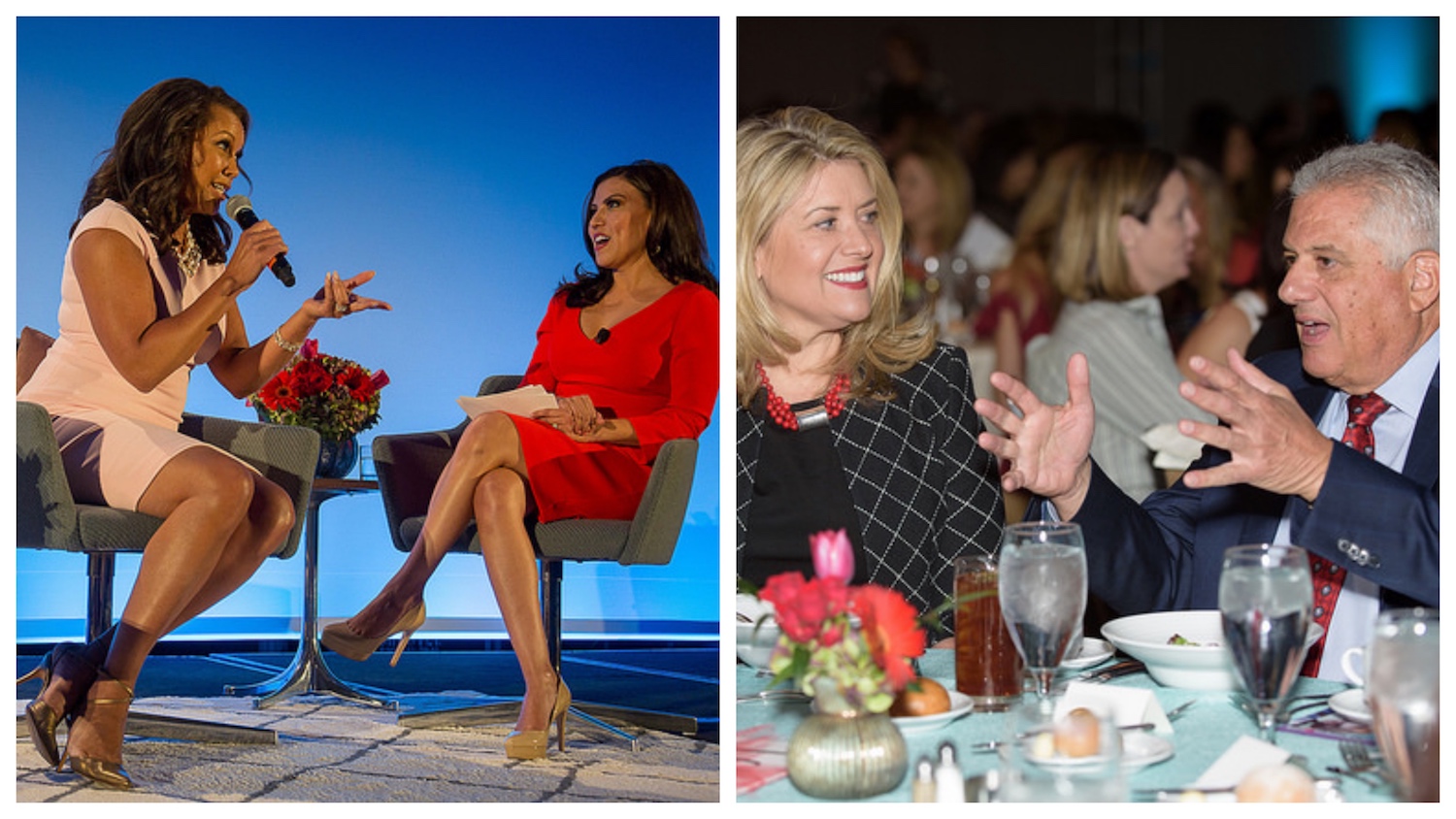 The program's format was impressive - with Vanessa (a Grammy, Tony and Emmy Award-nominated actress and singer) having a conversational chat with mistress of ceremonies Olivia Fierro, (pictured above left.) Valley of the Sun
United Way's CEO, Merl Waschler is pictured at the lunch, above right with Eileen Klein, Arizona State Treasurer and United Way board member.
Vanessa stresses that, "When you're hungry you can't learn, you can't be yourself and it takes away a part of you." She and her family have been supportive of United Way's mission for years.
it was emotionally rewarding when Tillman Middle School principal Dr. Chad Smith, pictured below, spoke. He related the effects of hunger in the classroom and his own incredible personal story of helping a hungry student in his school that he later adopted. The boy had never seen a refrigerator , let alone a refrigerator full of food, before Dr. Smith invited him into his home!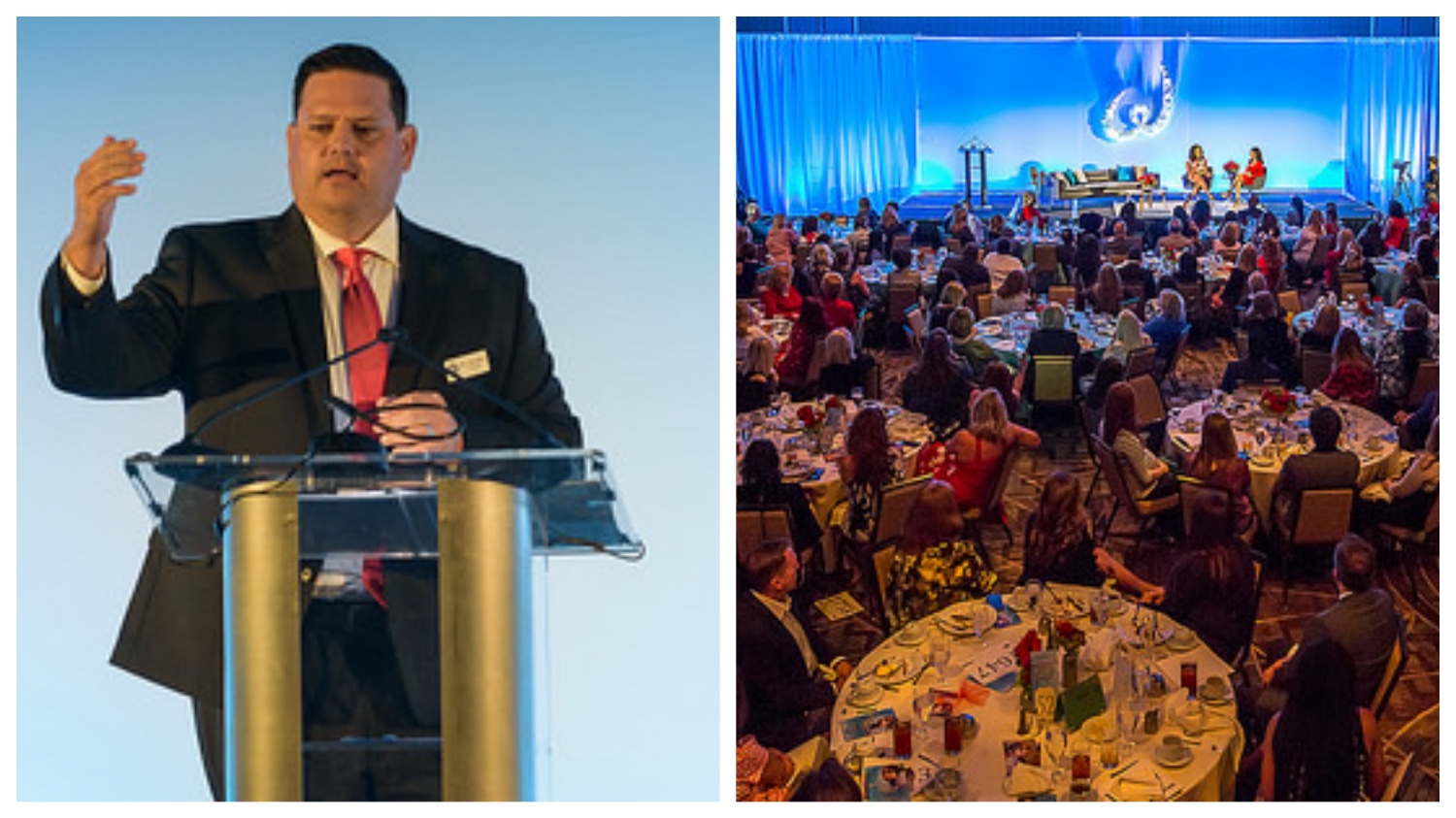 Since 1925, Valley of the Sun United Way has unified diverse partners, donors, business supporters, nonprofits, government and faith-based communities to build a stronger Valley for us all. United Way and its 90,000 donors, 400 business supporters and 5,000 volunteers fight to break the cycle of poverty by ensuring children and youth succeed, ending hunger and homelessness, and increasing the financial stability of families.

Kathy Shayna Shocket is a freelance Writer, and TV- Field Producer. The former TV-Reporter has written for publications such as TIME Magazine, MONEY Magazine, PEOPLE Magazine, The Hollywood Reporter and The NEW YORK TIMES. You can reach her at redkarpetgirl@aol.com