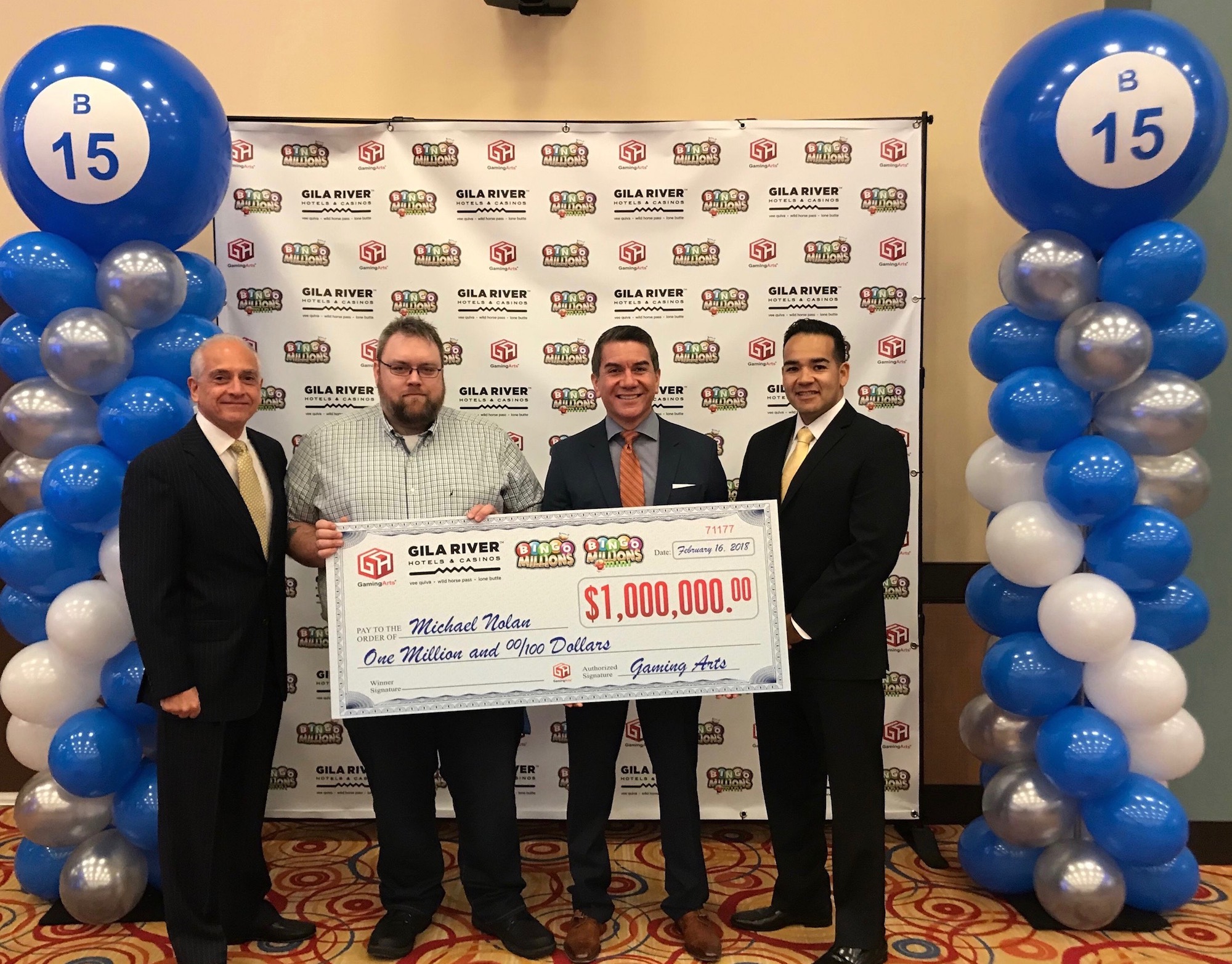 Just imagine that you're celebrating your birthday at Gila River Hotels & Casinos in Arizona and you hit the $1 million mega jackpot after playing Bingo Millions® . Yes, Michael Nolan of Phoenix not only struck gold on his 34th birthday, but he made history as Arizona's first Bingo Millions® $1 million mega jackpot winner!
"This is one of the most exciting bingo wins in Arizona's history," said Kenneth Manuel, CEO of Gila River Gaming Enterprises, Inc. " Our Lone Butte bingo room was simply electric once we announced that we had a $1 million bingo winner."
(Kenneth Manuel CEO is pictured above with Richard Strafella, COO of Gila River, Dominic Orozco, a Vice President of Gila River and winner Michael Nolan.)
Michael says he plans go back to school, fulfilling his dream of working on several of his passion projects. Nolan is a supervisor for a local technology support company and has no plans of resigning. And he will buy a new car. By the way, he hit the $1 million mega jackpot after playing Bingo Millions® for only the second time at Lone Butte in Chandler.
David Colvin, CEO at Las Vegas-based Gaming Arts and inventor of the Bingo Millions® game, said, "We always strive to create the most exciting games in the industry and our Bingo Millions® game hitting so quickly is a wonderful example of this goal fulfilled. When we say we offer 'Life Changing Jackpots,' we mean it!"
To win the $1 million mega jackpot from Bingo Millions®, Nolan had to cover every spot on his bingo card in less than 47 numbers. Nolan hit every one of his bingo numbers, also known as a coverall, in 46 numbers. The final and winning number "B15" put Nolan in the history books, making him the first person in Arizona to win the Gila River $1 million mega jackpot playing Bingo Millions®.
What happens next? Well, Gaming Arts, manufacturers of Bingo Millions®, worked to expedite the verification process to officially declare Nolan the winner, which can take up to 30 days. Nolan was notified Feb. 14 that his win was valid and he will receive his payout in a lump sum of $1 million.

Kathy Shayna Shocket is a freelance Writer, and TV- Field Producer based in Phoenix, AZ. The former TV-Reporter has written for publications such as TIME Magazine, MONEY Magazine, PEOPLE Magazine, The Hollywood Reporter and The NEW YORK TIMES. You can reach her at redkarpetgirl@aol.com