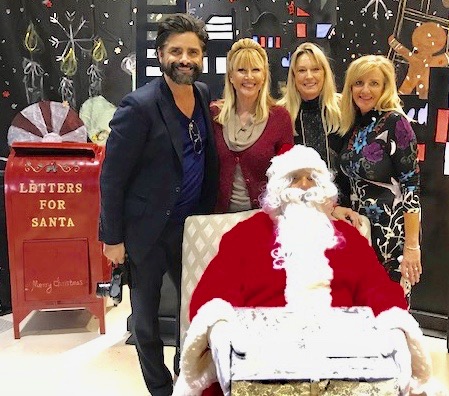 It was a "FULL HOUSE" at Childhelp's "Dancing with the Christmas Stars" as emcee John Stamos welcomed the 1,000 guests! The actor most well known for the beloved "Full House" series and now his "Fuller House" series on Netflix; has been a Childhelp ambassador for 30 years.
This year was a uniquely exciting one, because the actor just announced he's going to be a first time father! John and his fiancée Caitlin McHugh are expecting.
(Pictured at the top with John at holiday party at the Merv Griffin Village in Beaumont are Sandie Newton - one of Childhelp's "Speak UP be Safe" facilitators, Judy Jensen, Childhelp Chapter Director, and Sherry Bogh, Community Relations Coordinator at Merv Griffin Village.)
National Board member William Eckholm and wife Laurie Eckholm were among a group from Phoenix who travelled to the party in Beaumont, California and annual tour of the advocacy center. Not only that, but they invited CH founders Sara O'Meara and Yvonne Fedderson as their guests to fly from Childhelp headquarters in Phoenix to California aboard a private jet. The use of the private jet was part of a package the Eckholms bought at a charity auction.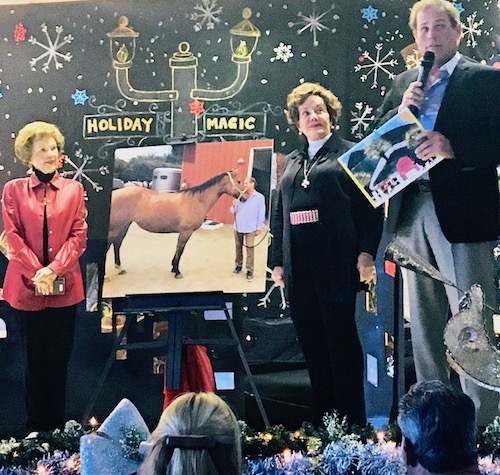 One of the holiday party highlights included heartfelt applause for George Argyros, Jr. (pictured above with Childhelp founders Sara and Yvonne Fedderson. Among his several generous contributions to the village George purchased a horse and he donated Christmas gift cards for every child and staff member.
The horse will be a welcome addition to the village's Ranch Program! The Ranch Program provides therapeutic opportunities for the children through animal care, equine and animal-assisted therapy, resident jobs and special events.
Other celebs at the party in Beaumont were CH Celeb Ambassador Jen Lilley, Keo Motsepe of "Dancing with the Stars" and model/actress Kim Alexis.
The Childhelp Merv Griffin Village in Beaumont, California, is dedicated to the 24-hours-a-day treatment of abused, neglected, and at-risk children of California. Committed to creating a genuine community environment, the village houses as many as 84 children ranging in age from 6 to 15 years old.

Kathy Shayna Shocket is a Writer and TV-Field Producer. The former TV entertainment reporter has written for such publications as TIME Magazine, Money Magazine, PEOPLE Magazine, The Hollywood Reporter and The NEW YORK TIMES. You can reach her at redkarpetgirl@aol.com