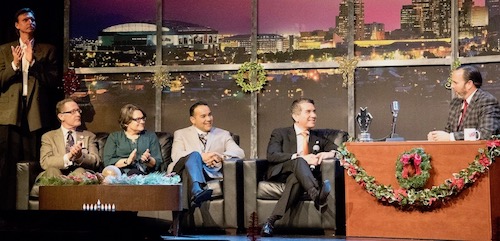 In an entertaining TV talk-show style setting, the Arizona Diamondbacks hosted its "Most Valuable Partner Awards." And the top award- (drum roll please)- goes to Gila River Hotels & Casinos. The lively awards also boasted a red carpet reception.
Gila River landed the MVP Gold Glove Award from the Diamondbacks, a nod to Gila River's innovative marketing strategy! Gila River's partnership with the team includes a special promotion of THE Card, in-game promotions such as the kiss cam, game night promotions combined with Native American Day, and volunteers participating at games throughout the season.
"Our partnership with the Diamondbacks means so much to our entire community, and the word 'partner' means we work hand in hand together on many endeavors," said Gila River Hotels & Casinos CEO Kenneth Manuel. Ken is pictured above with event emcee Derrick Hall , CEO of the Arizona Diamondbacks and David Baggerly, Cyndee Jorgensen and Dominic Orozco (and standing is Hall of Famer baseball pitcher Randy Johnson)
The annual MVP awards ceremony, held at Gila River's Wild Horse Pass Hotel & Casino in Chandler, honors the Diamondbacks top corporate partners. Joining the MLB's teams' key corporate sponsors, were many season ticket holders, D-Backs players, coaches and team alums.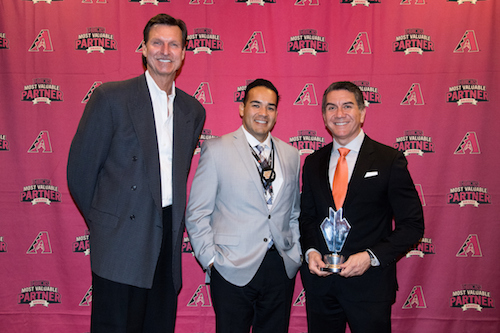 Gilaa River's Kenneth Manuel is pictured above with legendaary player Randy Johnson and Gila River's Dominic Orozco
The Most Valuable Partner Award recognizes a Diamondbacks partner who successfully embodies all aspects of a true partnership by engaging their employees, actively using the Diamondbacks brand through integrated platforms, and showing an unwavering commitment to the community.
The Diamondbacks are preparing to celebrate their 20th anniversary, and Gila River Hotels & Casinos is one of 12 corporate partners who have been with the Diamondbacks since the team's inception.

Kathy Shayna Shocket is a Writer and TV-Field Producer. The former TV entertainment reporter has written for such publications as TIME Magazine, Money Magazine, PEOPLE Magazine, The Hollywood Reporter and The NEW YORK TIMES. You can reach her at redkarpetgirl@aol.com