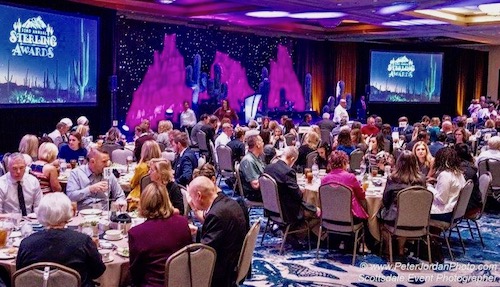 A drum roll please. At its annual marquee event, the Scottsdale Area Chamber of Commerce named The Dhaba, Bolste, Scottsdale Village Square and Family Promise of Greater Phoenix, the recipients of the 2017 Sterling Awards. It's been a Scottsdale tradition for 32 years now.
The four deserving honorees were selected from an impressive list of 12 finalists; all pictured below.
Scottsdale Chamber CEO Mark Hiegel says he proud of this year's event which celebrates the people and companies that make Scottsdale a great community and this year's theme, "For the Love of Scottsdale." "I feel this way about our finalists, our winners, our sponsors, our city and our Chamber members/clients who make it all happen," he says.
New this year, was a popular video featuring several VIP chamber members, including Doreen Reinke, of Nationwide E & S Specialty who lip synced Dolly Parton's "I Will Always Love You" and Prestige Cleaner's Donn Frye, who lip synced "Dean Martin's My Rifle, My Pony and Me." (Both Donn and Doreen are pictured below.)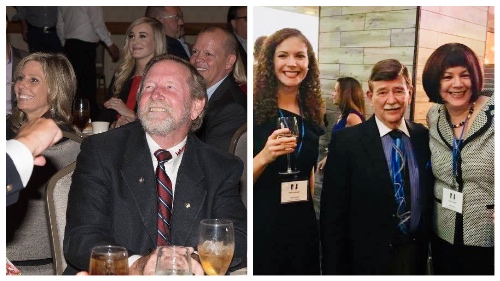 The winner in the Micro Business caterogry was The Dhaba, which provides restaurant and marketplace services, which won the award for its ability to exhibit success through innovation, creativity and collaboration. The award was presented by Prestige Cleaners.
Bolste, which provides an all-in-one digital work hub, was the winner in the small business category for demonstrating innovation, quality, professionalism and commitment to the community. COX Media presented the award.
The Big Business Award was presented to Scottsdale Village Square by Banner Behavioral Health. Scottsdale Village Square is a continuing care retirement community.
Family Promise of Greater Phoenix, which provides emergency shelter to families with children and pets, won the award for the nonprofit sector. The award was presented by APS.
Congratulations everyone!

Kathy Shayna Shocket is a Writer and TV-Field Producer. The former TV entertainment reporter has written for such publications as TIME Magazine, Money Magazine, PEOPLE Magazine, The Hollywood Reporter and The NEW YORK TIMES. You can reach her at redkarpetgirl@aol.com