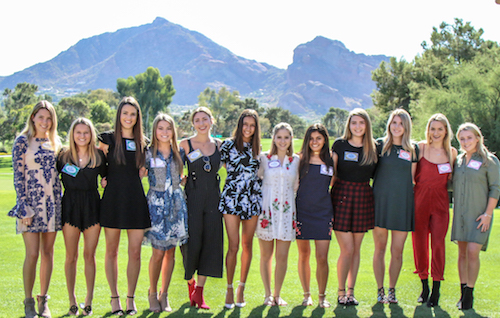 Amid all the pre-holiday parties and holiday spirit is the excitment of the Desert Foundation Auxiliary Ball - one of Phoenix's oldest and most respected black tie events. It dates back to 1965 when the first group of young debutantes were presented. Wendy Arendt and Gina Forster are Co-chairs of this year's 52nd annual ball.
Part of the DFA tradition is the Waltz-Curtsy pre-party for the debs and their families. This year's brunch was held at the Paradise Valley Country Club where the 2017 debutantes, selected from Paradise Valley, Arcadia, Scottsdale posed for a group photo. Pictured above are: Kathryn Eaton, Kyla Christifulli, Claire Folger, Jordan Craft, Annalise Kusy, Alexandra Gburek, Gabriella Vatistas, Sarah Neil, Emily Weigel, Alexandra Meyer, Analyse Fuenning and Reilly Whittington.
Debutantes, under the instruction of DFA Member and Presentation Chair Julie Johnson, learned the traditional curtsy and learned to waltz with their fathers. The debs are all freshman in college, including three young women whose mothers are current DFA members.
"It is an honor to plan this very special event at the newly renovated Phoenician Resort," says Wendy Arendt. "I have vivid memories of attending the Ball in 1988 when my mother was DFA President and the ballroom has the same elegance today."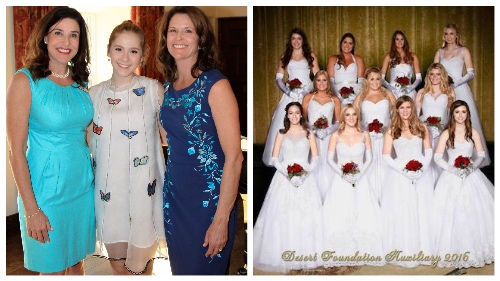 Wendy is pictured above with Annalise Kusy and ball co-chair Gina Forster. The 2016 DFA debutantes are pictured above right. Angelic Grove is creating the décor and floral arrangements for the Dec. 22 event.The Hamptons are entertaining. Tickets start at $250 for juniors (age 30 and younger) and $400 for adults. For more information you can click here.
Through the years the foundation has benefitted many charities and the proceeds from this year's fancy fete will help Maddie's Daddy Foundation, Inc. and Scottsdale Training and Rehabilitation Services (STARS)

Kathy Shayna Shocket is a Writer and TV-Field Producer. The former TV entertainment reporter has written for such publications as TIME Magazine, Money Magazine, PEOPLE Magazine, The Hollywood Reporter and The NEW YORK TIMES. You can reach her at redkarpetgirl@aol.com