Kathy Shayna Shocket has the stories on the people who make a difference.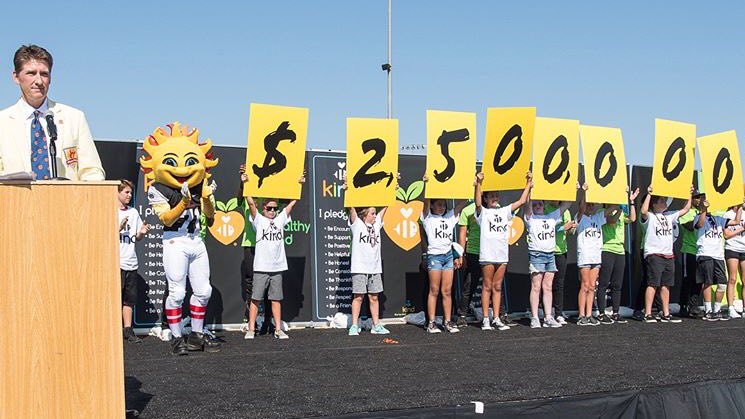 In a grand Fiesta Bowl style event - Fiesta Bowl Charities announced its charitable donations for the 2017-18 Fiesta Bowl season to nonprofit organizations in Arizona.
It's $2.5 million!!! And it's the largest amount in Fiesta Bowl history and more than any college bowl organization.
The high energy announcement was part of the Be Fit. Be Healthy. Be Kind. educational assembly at Gilbert Public School District's Campo Verde High School
It was also a record breaking assembly - with 5,000 students, staff and community members from the Gilbert Public School District in attendance at the football stadium. The Be Fit program was built through grant funding from Fiesta Bowl Charities.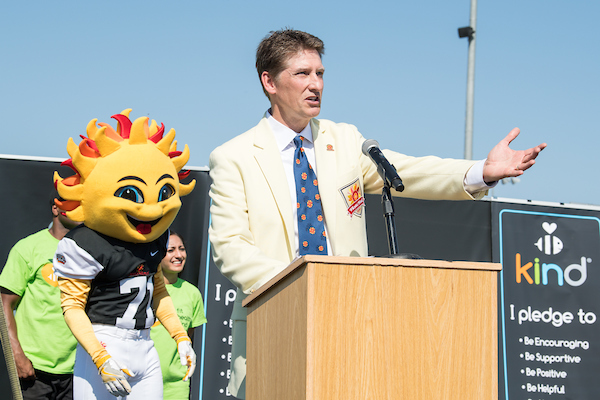 Mike Nealy, executive director of the Fiesta Bowl says that Fiesta Bowl Charities, its Board of Directors and entire organization are honored to enhance the lives of Arizonans through this increased level of funding that sets a new standard.
"Our three pillars of youth, sports and education drive everything we do, including determining where this money was distributed. We've seen how our state's nonprofits maximize the funds they receive and we look forward to hearing the stories of how these charities implemented the grants in the year to come," says Nealy.
Through its two annual bowl games in the Valley, the PlayStation Fiesta Bowl and the Cactus Bowl, as well as community events throughout the year, Fiesta Bowl Charities has given more than $10 million to the Arizona community in the last seven years.
"The Be Kind People Project's vision of building a generation of respectful, responsible, healthy, and caring citizens and leaders aligns perfectly with the values and mission of Fiesta Bowl Charities, and we are thrilled that over 60,000 students statewide will benefit from the support of the Fiesta Bowl grant," said Marcia Meyer, CEO and Founder of The Be Kind People Project.
Fiesta Bowl Charities evaluated nearly 400 grant applications before carefully selecting the 67 nonprofit organizations that will benefit from this year's $2.5 million. Congratulations.

Kathy Shayna Shocket is a freelance Writer and TV-Field Producer. The former TV reporter based in Phoenix has written for such publications as TIME Magazine, Money Magazine, PEOPLE Magazine, The Hollywood Reporter and The NEW YORK TIMES. You can reach her at redkarpetgirl@aol.com