"The AZ Insider" with Kathy Shayna Shocket: Get the inside scoop on Arizona's social scene and celebrity news.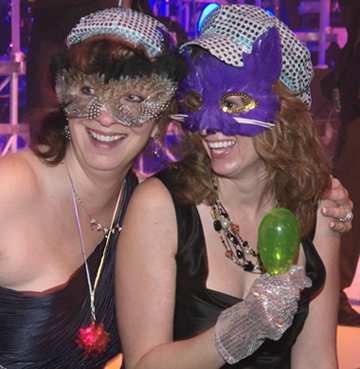 This week: Behind the scenes and the masks of one of the most popular black tie balls in Phoenix
The Honor Ball is one of the most popular black tie soirees of Phoenix's social season. It's an elegantly formal evening of, well mostly dancing. Picture many of the city's VIPs and philanthropists dancing the night away in the newly renovated Grand Ballroom of the luxurious Phoenician resort.
Many partygoers donned the colorful masks and Elton John-like neon flashing glasses which were passed out during the night. And when the Jacqueline Foster Orchestra played a medley of Michael Jackson hits, performers tossed white Michael Jackson inspired gloves into the crowd of hundreds on the dancefloor. There's no auction or raffle at this dinner benefit, yet it's raised more than $9 million to support patient and community services at Scottsdale Healthcare since 1977.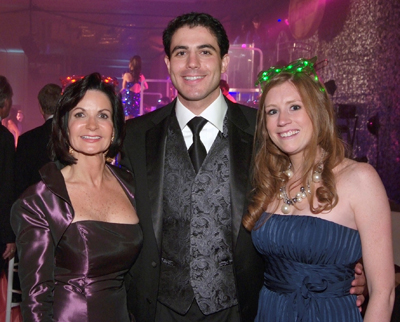 Janie and Caitlin Russo show off their neon flashing party glasses with Matt Russo.
This year's event was chaired by a special committee of past Honor Ball event chairs. About 20 of the committee members were recognized with beautiful custom made sashes with their name and the year in which they chaired the Honor Ball.
Some of the noteworthy milestones include Laura Grafman and Joan Potter who have both attended all 35 Honor Balls. Joan Potter was the very first chairwoman of the Honor Ball and Laura Grafman chaired the ball in 1981.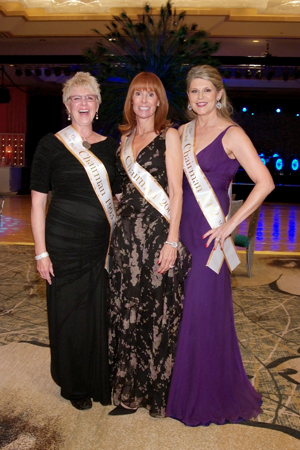 Cille Swaback, Patty Withycombe and Mimi Shaps
Congratulations to Laura and Joan and the group of past chairs who attended this year's gala:
Althea Monson (1980)
Martha Louchheim Skeans (1985)
Janie Russo (1990)
Penny Galarneau (1991)
Cille Swaback (1995)
Shelley Adams (1996)
Sandy Bruner (1997)
Christine Reeves (1997)
Melva Edwards (1999)
Sherilyn Sandor (1999)
Betsy Owen (2001)
Mimi Shaps (2002)
Ingrid Haas, M.D. (2003)
Elise Bard (2003)
Lee Anne Kline (2004)
Kathy Londeree (2004)
Patty Withycombe (2005)
Judy Sotelo (2006)
Judy Zaft (2007)
Irene Wassermann (2008)
Kathy Harris (2009)
Pam Ward (2009)
Sandy Trznadel (2010)
This popular fundraiser, with ticket prices from $500 per person and tables which started at $7,500, celebrated its 35th anniversary with a retro theme.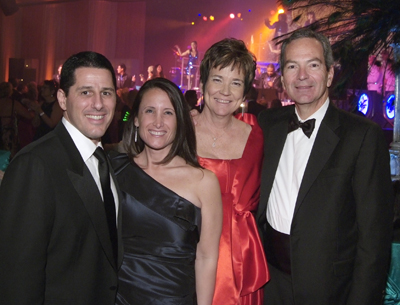 Dr. Alan and llana Roga and Mary and Tom Sadvary
The Grand Ballroom was bathed in coral and jade green in tribute to the 35th anniversary. Two lounge areas dubbed "Studio 35" flanked the main stage area and offered a retro respite for those who wanted to take a break from the dancefloor.
The Honor Ball's heritage can be traced to the summer of 1976, when the late Paradise Valley philanthropist Virginia G. Piper was inspired by the St. Francis Hospital Crusader's Ball in Evanston, Illinois, a suburb of Chicago. She thought, "If they can do it, why can't we?" The Honor Ball began with and continues to receive outstanding support from Scottsdale Healthcare physicians and their wives, community leaders and area businesses.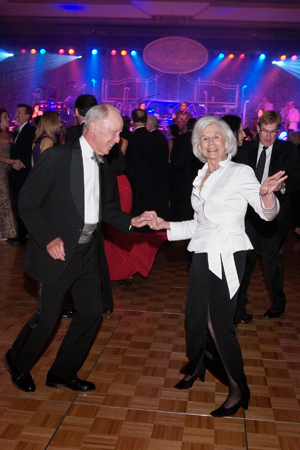 Joan and Bud Potter
The Virginia G. Piper Cancer Center is named for Mrs. Piper, whose charitable trust donated $15 million as a cornerstone grant to establish a comprehensive cancer center at Scottsdale Healthcare.
Proceeds from the ball benefited the research, programs and patient services of Scottsdale Healthcare's Virginia G. Piper Cancer Center. The center opened 10 years ago as the first major cancer center in greater Phoenix to offer comprehensive cancer treatment, research, diagnosis, prevention and support services in a single location.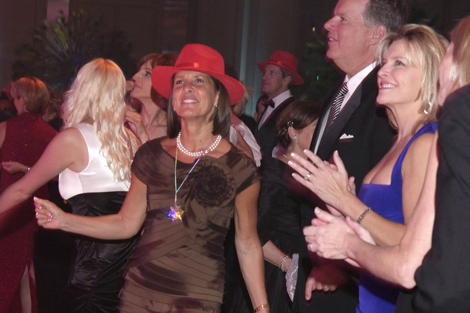 Scottsdale Healthcare Foundation is the philanthropic arm of Scottsdale Healthcare, the not-for-profit parent organization of Scottsdale Healthcare Osborn Medical Center, Scottsdale Healthcare Shea Medical Center, Scottsdale Healthcare Thompson Peak Hospital, Virginia G. Piper Cancer Center at Scottsdale Healthcare and Scottsdale Healthcare Research Institute.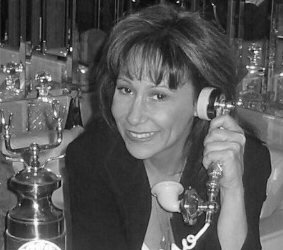 Kathy Shayna Shocket is a Phoenix based writer. If you have a good item for The AZ Insider, you can email her at redkarpetgirl@aol.com.