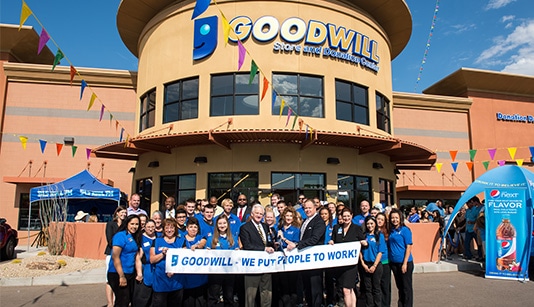 Most people are familiar with Goodwill. But they may not know just how much "goodwill" empowers people and strengthens the community.
Goodwill of Central and Northern Arizona is a 501(c)(3) non-profit organization dedicated to ending poverty through the power of work.
Goodwill takes a holistic approach to employment by providing job seekers the tools to feel confident, purpose driven, and successful. Donating or shopping at Goodwill supports our no-cost career services, which are available to anyone looking for a new job, education, or training. Goodwill diverts millions of pounds of material from Arizona landfills, giving them second life through reuse or recycling. To see what kind of impact your actions have, check out our walk-through below!
Goodwill also divert millions of pounds of material from going directly into the state's landfills each year? We resell your no-longer-needed items, turn them into much-needed job preparation and employment connections, and fight unemployment in Arizona.
What we can't resell, we recycle at our Retail Operations Center in Phoenix. Here, items including clothing, accessories, housewares, books, and DVDs are available for sale by the pound at our Goodwill Clearance Center.