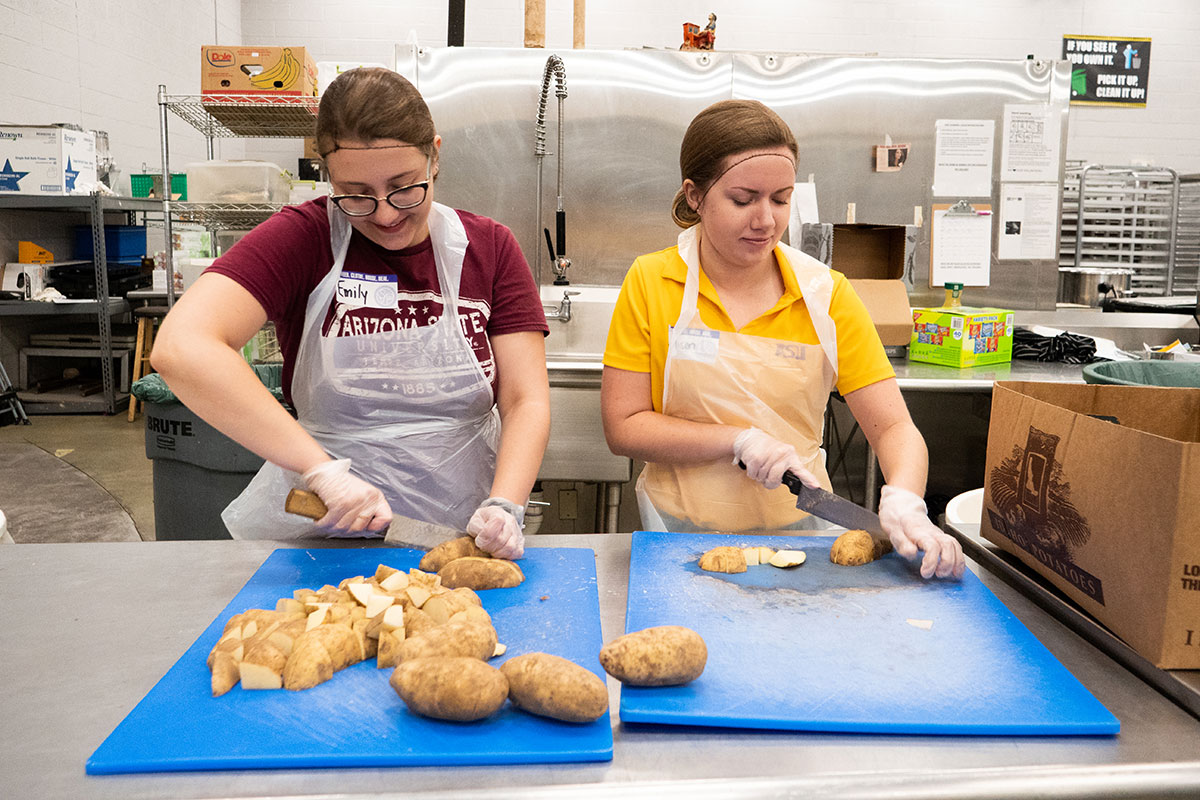 There are three prominent exciting partnership areas that showcase what happens when ASU's academic talent and research prowess combines with a Valley non-profits expansive vision, resources and social service expertise.
Since establishing a formal partnership in 2017, Arizona State University and St. Vincent de Paul have formed 491 touch points that create innovative opportunities in programming, learning, research and service.
Together, the SVdP and ASU teams maximized the social, environmental and economic impact of the Rob and Melanie Walton Urban Farm, which inspired two additional farms collocated with other SVdP dining rooms. Since its opening, the urban farms project has harvested more than 51,000 pounds of fresh produce to be prepared and served to people experiencing food insecurity, It has also diverted a total of more than 454,000 pounds of food waste into compost to create nutrient-rich soil.
Since 2000, SVdP's Family Wellness program and team of Registered Dietitians has provided one such community solution through nutrition, exercise and overall wellness courses for children, youth and adults from low-income areas who have a higher prevalence of diabetes and typically don't have access to quality health care.
Dr. Shaibi's research backs the effectiveness of SVdP's overall wellness programming while also helping further its innovation. The Ivy Center for Family Wellness empowers communities with wellness knowledge and tools so that people can sustain healthy change and lifestyles for good. It has gained national recognition and accreditation from the Center for Disease Control and Prevention and the American Association of Diabetes Educators. The partnership was also featured in the 2018 issue of ASU Social Embeddedness Magazine and received the ASU President's 2019 Social Embeddedness Award.Also with a strong relationship with SVdP and makes up almost a quarter of all 491 intersecting partnership activities, is Watts College. It includes the organization of 12 large-scale Day of Service events. The majority of students learning and serving at SVdP come from studies in Next Generation Service Corps, Nonprofit Leadership & Management and/or social work.
Currently, six ASU social work students are building SVdP's capacity to facilitate Miracle Messages, a family reunification program focused on reconnecting individuals experiencing chronic homelessness with their families. This is the second phase of the program, as Nonprofit Leadership & Management students piloted Miracle Messages in fall 2018. They reconnected six of the 25 participating SVdP guests, demonstrating the power of family reunification to relieve homelessness and the homelessness prevention growth opportunity for SVdP.