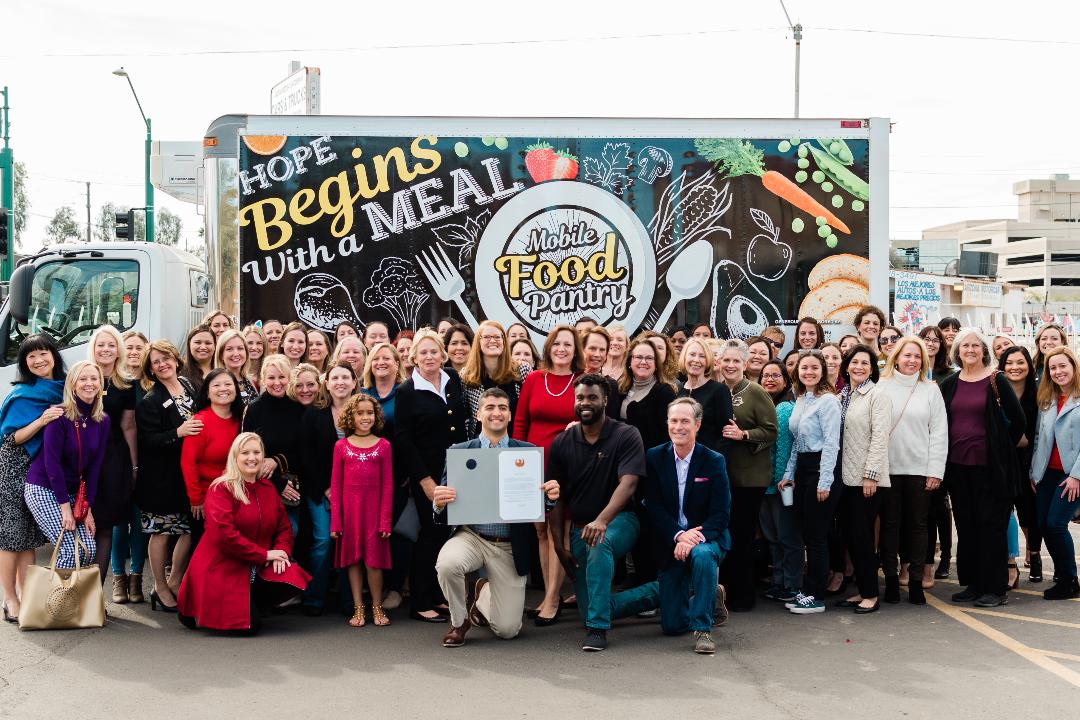 The Junior League of Phoenix's anniversary grant to the Phoenix Rescue Mission was such a game-changer for the agency which helps the homeless, that they all gathered to celebrate at the Mission's Cafe. The Phoenix Mayor even declared the day "Junior League of Phoenix Day." It was a great way to celebrate the dedication of the Mission's Mobile Food Pantry.
In fact, it's the JLP's $85,000 grant, which will allow the Mission for the first time, to provide a Mobile Food Panty to its homeless community in need. The donation celebrates the JLP's 85th major anniversary.
"This refrigerated mobile pantry will allow us to reach people in isolated areas, people who live in a food desert and don't have a grocery store within a five-mile radius," says Nicole Pena of the Phoenix Rescue Mission. "It allows us to provide fresh vegetables and healthier alternatives."
The grant aligns with JLP's focus of 'Building a Healthy Arizona," and the celebration day also showcased many of the other major past successes and the future goals of JLP in the community.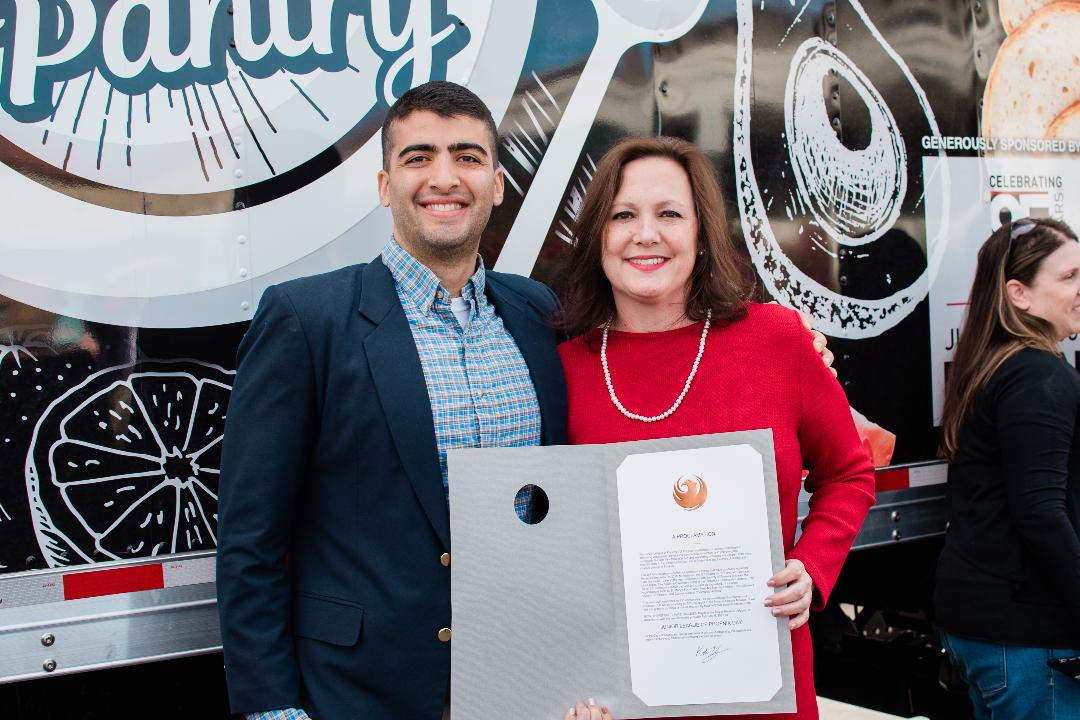 "With this grant to Phoenix Rescue Mission, we continue that tradition of contributing to sustainable community change knowing that only a coalition of changemakers will move the needle and our organization is and will continue to be at the forefront of that movement," says JLP President, Wendy Brooks. She's pictured above holding the Mayor's proclamation, with Cepand Alizadeh, of the Mayor's office.
The Mobile Food Pantry will allow people who were often just buying their groceries from a convenient store, and many canned foods, to have alternative fresh produce. And as Nicole Pena explains, "We can even teach cooking skills with the donations of vegetables, even turnips and rhubarb we receive, for example, because the truck has two portable kitchens."
The JLP and Phoenix Rescue Mission have committed to expanding these services due to an increasing food insecurity epidemic in the Valley, leaving one in six Maricopa County families unsure of where or how they will receive their next meal. Phoenix Rescue Mission began developing these services with the acquisition of Hope for Hunger food bank in 2017. It has now grown from serving 75 families per day to 180, in it's dedication to providing solutions to end hunger, homelessness, addiction and trauma.

Kathy Shayna Shocket is a Writer and TV-Field Producer. The former TV entertainment reporter has written for such publications as TIME Magazine, Money Magazine, PEOPLE Magazine, The Hollywood Reporter and The NEW YORK TIMES. You can reach her at redkarpetgirl@aol.com