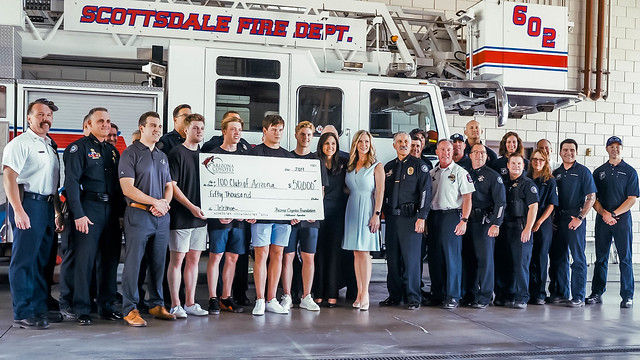 In case you don't know, firefighters are great cooks! So it was even more of an exciting afternoon, when a group of Arizona Coyotes prospect players took to the kitchen at a Scottsdale Fire Dept.
Yes, Victor Soderstrom, Barrett Hayton, John Farinacci and Brayden Burke, prepared lunch and dessert for a group of police officers and firefighters. They're pictured above with Scottsdale Fire Chief Tom Shannon, President and CEO of the 100 Club Arizona, Angela Harrolle, and Chief of Police, Alan Rodbell, who were also at the informal lunch.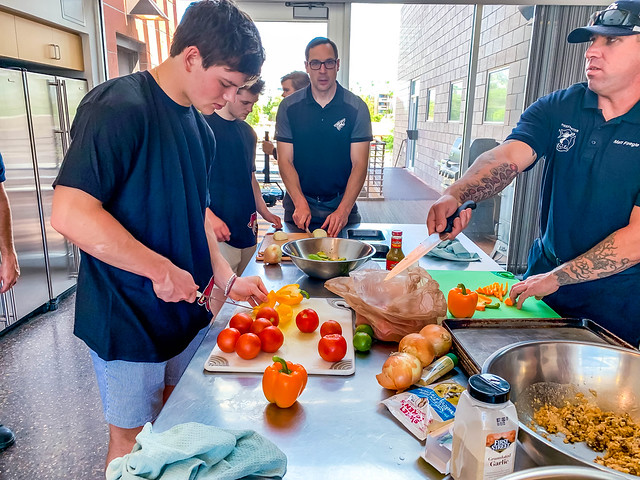 It was all part of the Coyotes' community commitment to the 100 Club of Arizona, coupled with the team's $50,000 donation. "They honor so many great men and women who serve our state here, and it's just wonderful to participate," said Coyotes President and CEO Ahron Cohen of the 100 Club of Arizona.
The four prospective Coyote members visit, were part of a day in the community for a group of 38 prospects attending the Coyotes' development camp. "It's a core pillar for everything that we do, we want to positively impact our community and make a big difference and establish this for the young guys too," Cohen said. "When they're joining our club, we want to show them what it means to be a Coyote, and part of that is about making a significant impact in our community."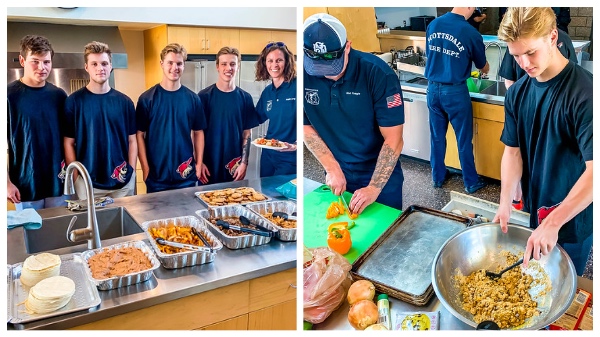 Scottsdale's Fire Chief, Tom Shannon appreciates the Coyotes' contribution. "I know that their gift today was to the 100 Club of Arizona, but our folks benefit directly from that gift," he said. "We're direct benefactors to everything that the 100 Club of Arizona does, whether it's line of duty issues, injury on the line of duty, or sadly some of the illnesses and afflictions that will impact first responders."
President and CEO of the 100 Club Arizona, Angela Harrolle adds that, "the Coyotes Foundation support is really, really important to us because we can only do what we do every day because of donations like this. We can only give away what we get in, so when we have wonderful teams like the Coyotes come in and say, 'Hey, we want to support the 100 Club of Arizona.' we're thrilled because it helps people to know that there is an organization like ours giving back to police officers, firefighters, correction officers, so that they know they're supported on many different levels."

Kathy Shayna Shocket is a freelance Writer, and TV- Field Producer. The former TV-Reporter has written for publications such as TIME Magazine, MONEY Magazine, PEOPLE Magazine, The Hollywood Reporter and The NEW YORK TIMES. You can reach her at redkarpetgirl@aol.com