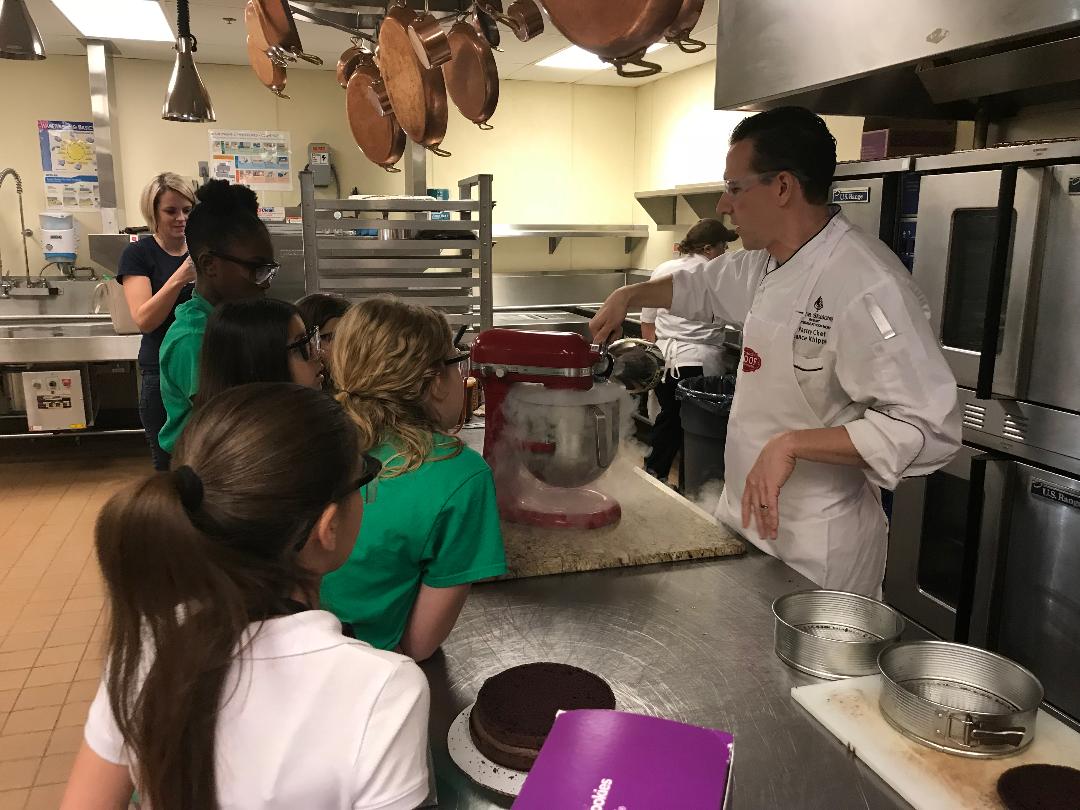 Let your taste buds imagine one of these unique sweet desserts! Yes, imagine a recipe using one of the popular flavors of Girl Scout Cookies blended into a custom dessert menu item.
Well, several chefs from the Phoenix area restaurants did just that and there's still time to sample one or more of the culinary delights. Each restaurant is featuring its dessert on their menu until the end of February.
What's sweeter is that a portion of the proceeds from each dessert sold directly supports Girl Scouting in Arizona.
Beyond conceptualizing, creating and offering the desserts on their menus, chefs such as Chef Lance Whipple of Proof at the Four Seasons Scottsdale Resort are also partnering with the Girl Scouts on several enhanced elements of the challenge. (He's pictured above with some of the Girl Scout ambassadors in the Proof kitchen.) His recipe uses the Samoas to create a coconut chocolate Samoas ice cream cake with caramel sauce.
"Last year, we got the idea to have a few girls join us in the kitchen to see all the moving parts that goes into both running a restaurant and delivering food to the table," says chef Lance. "It was such a hit that we are hosting 'Girl Scout Field Trips' with some local troops this year to really get them excited about the art, math and science behind what we do. Maybe there are even a few future chefs in our mix!"
Chefs from Aioli Gourmet Burgers, Babbo and Original Gravity are also among the restaurants which brought the girls behind the scenes this cookie season.Pictured below from Aioli Burger is Chef Tom D'Ambrosio showing the girls how to prepare the restaurant's dessert called Samoa Cannoli.
"Several of our partners are helping troops to set up formal stations outside their venues, allowing our girls to sell cookies in what is the largest girl-led entrepreneurial program in the world: Girl Scout Cookie Season," says Girl Scouts' Susan de Queljoe.
"We've been calling this year's challenge the 'extra-sweet sixth' because it perfectly aligns with the six levels of Girl Scouting, six weeks of local cookie sales and six super popular cookie flavors," she adds.
Some of the other restaurants participating are: Original Gravity, PNPK, ZuZu at Hotel Valley Ho, The Herb Box and Lovecraft, Rusconi's American Kitchen,Jake's Unlimited, Babbo Italian Eatery, The Phoenix Ale Brewery Central Kitchen , The Thumb and Little America. Now in its third year of the challenge, Little America's Chef Vanessa Ronspies - was a Girl Scout!

Kathy Shayna Shocket is a freelance Writer, and TV- Field Producer. The former TV-Reporter has written for publications such as TIME Magazine, MONEY Magazine, PEOPLE Magazine, The Hollywood Reporter and The NEW YORK TIMES. You can reach her at redkarpetgirl@aol.com