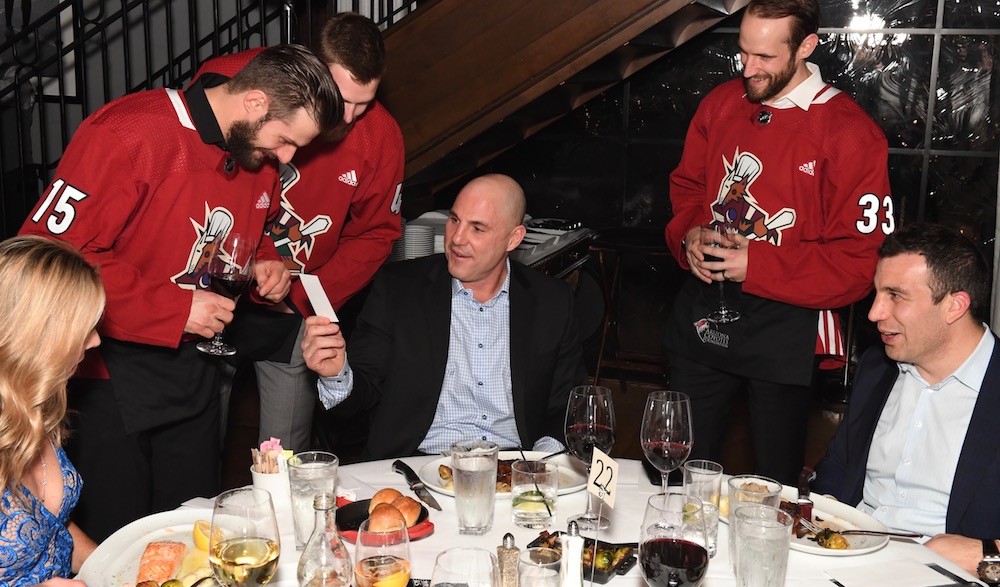 What a howling fun night for Arizona Coyotes fans as players traded their skates and hockey sticks for aprons. Yes, aprons! That's because it was the team's annual Celebrity Waiters Gala. They've got big plans for giving back to the community again this year through the Arizona Coyotes Foundation.
This was the chance for guests to not only mingle with the team off the ice - but bid on the unique auction items such as a traveling on the team's private plane to a game - or two.
Coyotes President /CEO Ahron Cohen and Head Coach Rick Tocchet (pictured above) joined guests for the signature fundraiser. Rick Tocchet with Ahron Cohen, are also pictured below left. Pictured right above, Coyotes players Oliver Ekman-Larsson and Brad Richardson mingle with guests.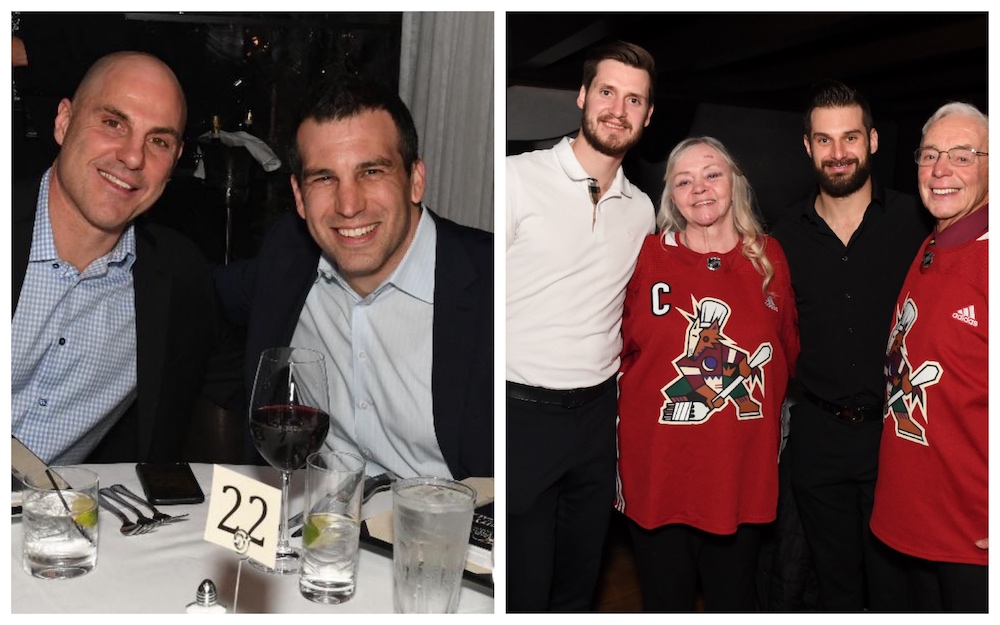 About 200 guests turned out for the event held this year at Dominick's Steakhouse in Scottsdale.which raised $150,000 for the Foundation. This was the night for competitive bidding on the trip to travel on the private team plane for TWO away games when the Coyotes play in Chicago and St Louis. It includes staying at the team hotel and attending the private morning skate prior to the those games.
Some were also howling about the chance to bid on a front row seat at the Coyotes pre-game ceremony when they'll be retiring #19 Shane Doan . The winner has tickets for four people to be seated in the penalty box, front row. Not to mention the signed Doan jersey.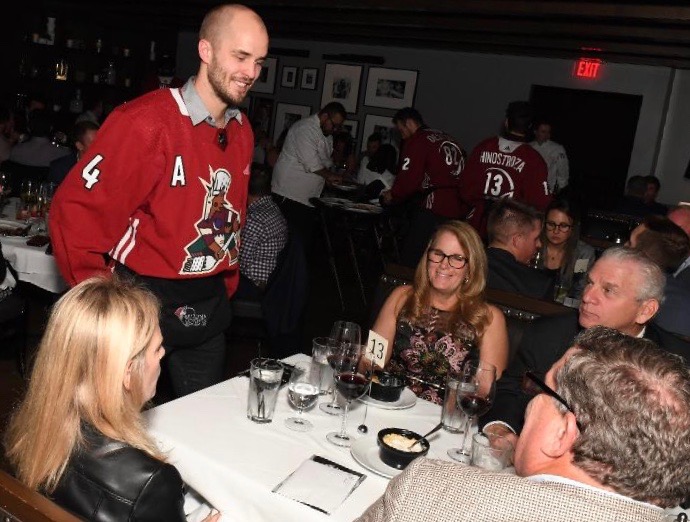 Pictured above, Coyotes Niklas Hjalmarsson serves up some Coyotes hospitality.
The Coyotes Foundation supports non-profit organizations that promote healthcare, education and cultural arts programs for children and service men and women.
Patti Luttrell of the Children's Cancer Network and Nicole Thompson of the Harvest Compassion Center both spoke to the partygoers. The charities are among the many which benefit from the AZ Coyotes Foundation. The foundation also dedicated to health and wellness programs that stimulate the growth of youth sports and financially supporting programs that encourage teamwork skills while building future leaders in the community.

Kathy Shayna Shocket is a freelance Writer, and TV- Field Producer. The former TV-Reporter has written for publications such as TIME Magazine, MONEY Magazine, PEOPLE Magazine, The Hollywood Reporter and The NEW YORK TIMES. You can reach her at redkarpetgirl@aol.com