Page 1 of 3
When you walk into Scott and Barbara Nelson's sixth-floor condominium, breathtaking views of the shimmering lake below abound—and yes, we are still in Arizona. This couple's home is a part of the luxurious Bridgeview building at Hayden Ferry Lakeside, located on the ever-popular Tempe Town Lake.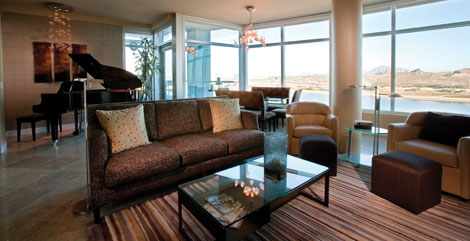 Bridgeview, a development that began building in 2006 and opened in 2008, joins fellow condominium tower Edgewater in the mixed-use community, Hayden Ferry Lakeside. Set to be a complete 43-acre development, Hayden Ferry Lakeside already includes office space, dining options and high-end residences, and once finished will also offer additional retail outlets and a hotel.
Designed by SunCor Development Company and architectural firm IBI/HB Architects out of Vancouver, British Columbia, in collaboration with Callison Architecture from Seattle, Bridgeview includes 104 units, which range from 1,100 to 4,900 square feet. According to Jim Hancock, architect for IBI/HB Architects, two goals prevailed throughout the project. One was that each unit had a view of the lake, and the other was to shield the units from the sun, which was achieved by placing solar shield overhangs on the roof of each building.
"It's really a response to the environment as we perceived it to try and deal with the heat and reduce the need for air conditioning as much as possible," Hancock says.
After living in McCormick Ranch for 20 years where they raised their three children, Scott, C.E.O. of Biotech Cyclotron and Barbara, a fiction writer, moved to Bridgeview in June 2008. "We're definitely on an adventure here," Barbara says.
Not only did they gain a new view and new furniture in their three-bedroom, two-and-a-half-bathroom unit, but the Nelsons are also pleased about their lifestyle change. "It seems like either you settle in at this point…or maybe there's a chance for turning a corner and making a change; trying something you haven't done before, and we opted for that," Barbara says.
Scott, who has 30 years of experience in the construction business under his belt, was also drawn to Bridgeview for the quality in the development process. "SunCor is a great company and there are lots of projects right now that are half sold and that people have to be very worried about…and we're not. We have the greatest developer you could ever imagine," he says.