Page 1 of 3
From the outside, Scottsdale's Optima Camelview Village is undoubtedly impressive— its sleek lines, creative angles and plentiful glass make for an eye-catching arrangement. But what's more, its luxury and innovation may just make this eco-friendly community one condominium that's unlike the rest.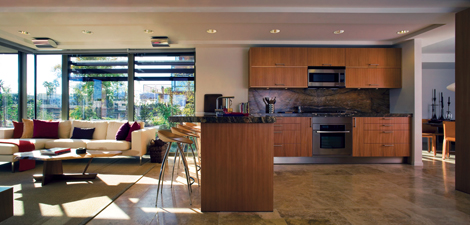 Although the 677-unit Optima Camelview Village is still in its third and final phase of construction and its 11 bridge-linked buildings won't be completed for another year and a half, the project is already 84 percent sold with over 485 occupied units. And, despite the recent economic downturn, the building's 2008 sales increased by 71 percent over those in 2007. It's no coincidence that this mixed-use community continues to produce positive results—the peaceful ambiance, ideal location, unique amenities and sustainable design speak for themselves.
Led by Illinois-based architect and builder David Hovey, the Optima company was founded in 1978 in Chicago, where to this day most of its modern projects are based. In Scottsdale, Camelview Village is no exception to the inventive, award-winning Optima standard. In fact, it was recently named one of the 18 greatest architectural achievements in Arizona by the American Institute of Architects. "Camelview Village is a 21st-century version of the Hanging Gardens of Babylon with a myriad of desert plants cascading from the outdoor roof terraces and bridges," Hovey says.