Page 1 of 3
Fireplaces and landscape art add to this Colorado retreat's mountain-rustic appeal.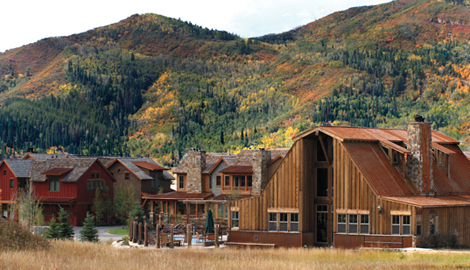 Domenick and Joann Galluzzo like their home in Fairfield, Conn.—but they will tell you there are also fair fields in Steamboat Springs, Colo. Here, too, are the slopes of the Park Range for skiing and hiking; the Yampa River and Steamboat Lake for water recreation; Fish Creek Falls; hot springs at Strawberry Park; and their luxury community, The Porches, whose high-country lifestyle draws the couple (who've been married for 47 years), their three children and eight grandchildren as many as nine months a year. About five national carriers can fly them into nearby Yampa Valley Regional Airport, about 160 miles northwest of Denver.
After a year of planning and construction, they completed their 4,189-sq.-ft. four-bedroom getaway in December 2005. For the Galluzzos' home and throughout the community, The Porches' building team follows a mountain-rustic architectural theme recalling the ranch homes built by Yampa Valley pioneers. Distinguishing the homes are exterior paint color, roof pitch, layout and interior designs.
The city of about 9,000, the seat of Routt County, is the home of ranchers, cowboys and skiers, as well as families like the Galluzzos who have made it their getaway or retirement home. The area has produced 69 Winter Olympians, more than any other town in North America. They ski about 35 days per year here at the 3,000-acre Steamboat Ski Resort on 10,565-foot Mount Werner, about three miles southeast of downtown Steamboat Springs. "We enjoy all kinds of mountain activities—everyone skis—and there is no better town for this than Steamboat Springs," says Dom who, like Joann, is a Connecticut native. In the summer, the couple can golf at four local courses, Joann and her daughter and grandchildren hike and bike as well as tube the Yampa. The area's 6,695-foot elevation makes snow in the winter and cool summer days in the low 80's.