Page 8 of 11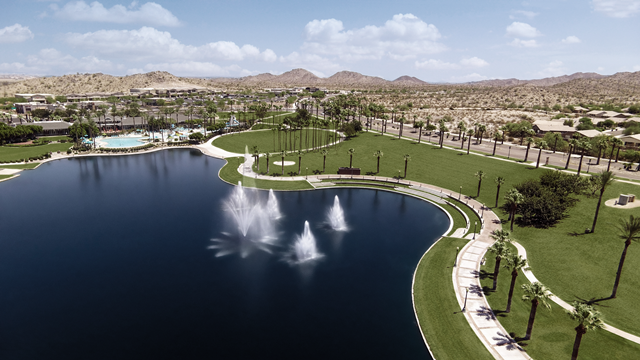 Estrella by Newland Communities, Goodyear (above)
Acreage of community: 20,000 acres.
Home price range: High-$100,000's to more than $400,000.
Founded in: 1988.
Standout feature: The vibrant community houses more than 500 acres of parks, 72 acres of lakes that residents can actually sail and access to more than 40 miles of trails.
What's new: Estrella recently opened Presidio, its second residents' club, and will be adding new builders and home offerings throughout the next several months.
Verrado, Buckeye
Acreage of community: 8,816 acres.
Home price range: High-$100,000's to $500,000 or more for single-family homes.
Founded in: 2004
Standout feature: The distinct setting against the White Tank Mountains complemented by a small-town design includes unique homes with front porches, tree-shaded streets, 77 parks including Village Green (Verrado's town square), and more than 21 miles of paths and trails that includes connections to 16 more miles of trails in Buckeye's Skyline Regional Park.
What's new: The Verrado Golf Club's newest course, The Victory Course, opened in early 2017, while the Cliff House at The Victory Course will open this month, bringing a unique open-air dining experience with Valley views and another fully equipped golf shop.
4,196 homes built of 11,000 planned!