Page 1 of 3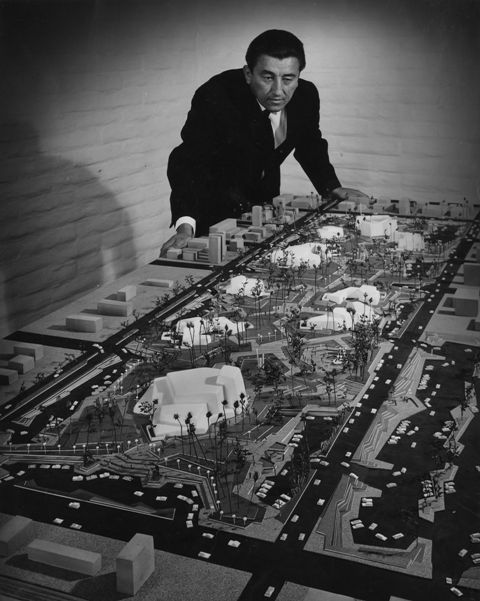 Bennie Gonzales with model of Civic Center. Photo: Scottsdale Historical Society.
Barnaby (Bennie) M. Gonzales (1924−2008), is remembered for his decency, humor, humility, charm, community leadership and, most importantly, for championing a regional Southwest architecture. Now, many more living in and visiting Scottsdale will know his name.
The city of Scottsdale renamed First Avenue between Drinkwater Boulevard and 75th Street "Bennie Gonzales Way" on Oct. 11. That evening, Scottsdale historian Joan Fudala and Scottsdale architect Doug Sydnor, FAIA, offered, respectively, "City Governmental Mall Evolution" and "Architect Bennie Gonzales" at the Scottsdale Civic Center Library Auditorium.
Gonzales designed the landmark City Government Complex and Main Public Library, built in 1968, and the Scottsdale Center for the Arts, which followed in 1976.
In total, he is credited with about 300 buildings, residential and commercial, in the Valley. About two dozen are in the Scottsdale area, including his award-winning Paradise Valley home in 1967, which appeared in LIFE magazine, promoting Scottsdale as a vibrant Southwest city.
He won 131 awards, several from the Arizona chapter of the American Institute of Architects (AIA), including the Scottsdale government complex: "an open invitation for the citizens to participate in their government," the group noted in appreciation.
"The 1968 Scottsdale City Hall and Civic Center Library was a refreshing new interpretation of a contemporary Southwestern architecture with roots in Native American and Mexican indigenous architecture and ruins," says Sydnor, a Scottsdale architect who learned about Gonzales' work through his dad, also an architect, 'Reg' Sydnor, FAIA, 'Reg' Sydnor, AIA.