Page 1 of 2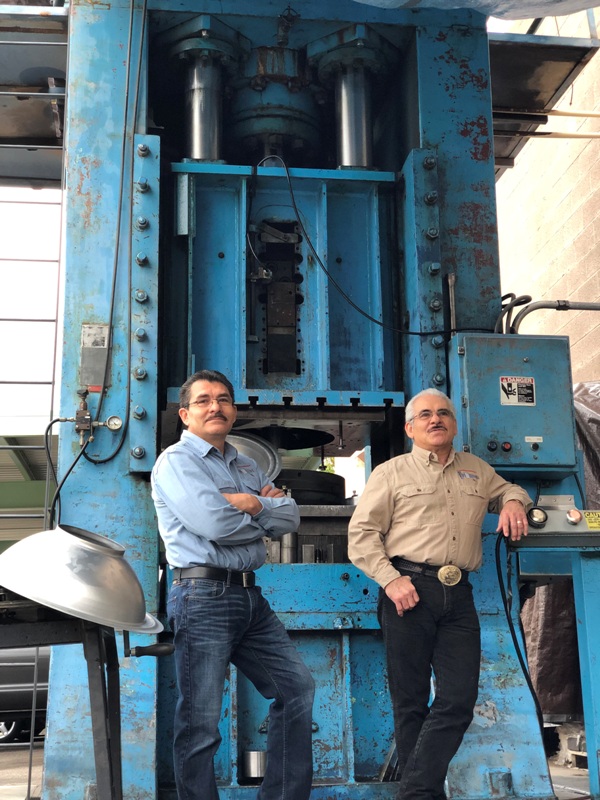 Saul and Juan Estrada, left to right at 350-ton hydraulic press. Photo by Saul Estrada, Jr., Southwest Metal Spinning Inc.
Want to transform an unfriendly room? Welcome in light with a room- and life-brightening tubular skylight, also known as a solar tube. After one is added, a forbidding hallway disappears; a dark kitchen is changed into a friendly space; bathrooms, bedrooms, hallways and closets are enlivened. And, this happens after just a few hours of professional installation. Simply transformational.
Creating and installing some of the finest tubular skylights are the Estrada family, owners of Elite Solar Lighting & Fans in Chandler. In addition to manufacturing these top-quality tubular skylights, they also produce premium solar attic fans and garage exhaust fans.
This year, the parent company, Southwest Metal Spinning (SWMS) celebrates 25 years of manufacturing excellence. SWMS provides metal spinning, stamping and the engineering of tooling to fabricate custom metal-formed parts such as food industry components and precision aerospace parts.
The family's Elite Solar Lighting & Fans is in the same building; SWMS creates the premium aluminum components for its high-impact domes and diffusers. Together, the companies employ 16 people.
Brothers Saul and Juan Estrada have worked for more than 75 years in the industry, learning the business at several metal spinning and stamping companies in native Southern California. In 1994, they moved to Arizona and formed their company. They both live in Gilbert with their families. "This is not a job; it is my passion," Saul says.