Finding the time to relax and clear the mind is essential to life's daily functions. Here's a unique program for all our over-worked readers.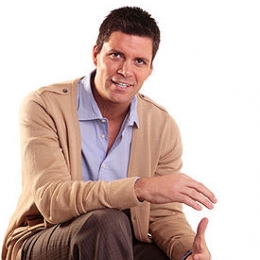 Calling all athletes: Need to relax? Want to learn ways to relieve stress and clear your mind? Your next workout may be from the most unlikely source. Former NFL tight end Damian Vaughn offers techniques to enhance on-and-off field performances through his newly opened facility, The Vaughn Center. You don't have to travel far to gain insight from this star; the facility is right here in Scottsdale.
The Vaughn Center, established in 2008, objects to "master the mind, body and sport" by enhancing athletes' minds, bodies, and spirits. The center creates a unique experience for current and transitioning athletes through a range of programs, one-day, two-day and weekend retreats, various workshops, and even private coaching with Vaughn himself. Specially designed programs identify the different types of athletes and focus on meditations and body-awareness strategies unique to each one. Vaughn combines Eastern wisdom traditions and conventional science to allow athletes to easily slip into "the zone" during each meditation. His teachings are also a blend of quantum physics, neuroscience and the science of mindful awareness.
His teachings have been utilized throughout the sports community. He has worked with athletes from the NBA, NHL and the NFL including Pro-Bowler Sean Morey, Green Bay's linebacker AJ Hawk, and coaching members of last year's Super Bowl champions, the New Orleans Saints. Vaughn aims to help not only athletes establish balance and purpose in life, but he also works closely with men and women in both the financial and corporate worlds.
"My programs are for anyone seeking a way to manage stress, improve sleep, achieve emotional freedom, improve performance and productivity, discover a deeper purpose in their life, and most importantly, learn how to cultivate more FLOW in life," Vaughn says.
Interested athletes can find information on Vaughn's Web site, visit the facility based in the Aviano at Desert Ridge, or even watch a free podcast, "Getting into the Warrior State: A Meditation for Cosmic Athletes." Vaughn also designed courses for The Westin Kierland Resort & Spa and teaches at the Camelback Village Racquet & Health Club.
Damian Vaughn is a former NFL tight end for the Cincinnati Bengals and Tampa Bay Buccaneers. His football career ended after an injury. After retirement, Vaughn studied at the Chopra Center in California, Mindsight Institute at the University of California, Los Angeles (UCLA), and the Center of Consciousness Studies at the University of Arizona. With more than 15 years of meditation study, he is a certified teacher of Primordial Sound Meditation. Vaughn resides in Phoenix with his wife and two children. www.vaughncenter.com