Television personality and AZfoothills.com columnist Nadine Toren is scouring the area, finding savvy Valley features, bringing readers "on the scene." Every day she'll introduce you to celebrities, athletes, and give you an inside look into local events and hot spots. She'll touch on topical issues, and keep AZ fans posted on all the big talkers around town.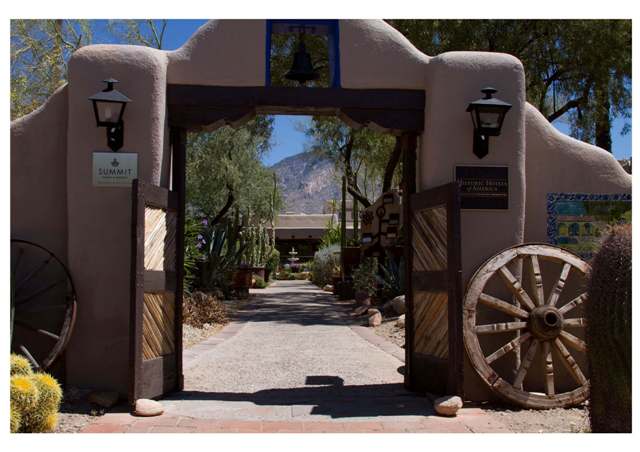 Want to treat your honey to the perfect V-Day getaway?  Check out this Tucson hot-spot where classic celebs used to retreat!
There's nothing like the sound of silence, and if you've heard it, you know exactly what I'm talking about.
As V-Day approaches, consider planning an escape with your Valentine, trading in Valley chaos for a dose of the great outdoors.  Hit the road, and head towards Tucson, checking into one of Arizona's hidden gems: Hacienda Del Sol.
Consider this place a serene guest ranch—no stilettos necessary; instead, jeans a boots.  Trust me, you'll feel an immediate sense of calm when arriving at the secluded resort flaunting a rich history.
It all began in 1929, when John and Helen Murphey created Hacienda Del Sol, the desert retreat inspired by early Moorish architecture. The property was originally a homey ranch school for the daughters of society's elite families; in fact, the prestigious school's roster boasted names such as Vanderbilt, Pillsbury, Maxwell, Westinghouse, and Campbell.
In the late 1930s, esteemed architect Josias Joesler re-vamped the ranch, and in 1948, it was converted into a resort that immediately attracted A-listers like Spencer Tracy, Katharine Hepburn, John Wayne, and Clark Gable.  The guest ranch was then forgotten for some time, but during the 1990s, it got much-needed TLC.  In 1999, the resort debuted its Grill restaurant, one of Arizona's finest dining venues.  The place also had some major restoration, making it the luxurious; yet, authentic retreat it is today.
And here's more reason why I love my job: the fiancé and I got to experience Hacienda Del Sol at its finest.
Seriously, it's perfect for any romancer—the rooms are decked out in southwestern flare flaunting plush king-size beds and a private patio.  (There are only 30 unique guestrooms, suites, and casitas, each stunning and secluded.)  The pool is pristine, and the hot tub overlooks the magnificent mountainous backdrop.  The grounds are beautifully colorful, coated in quite an array of plants.  Actually, the landscape was designed by the world-renowned Dr. Andrew Weil, who constructed the 2,000 square-foot garden showcasing herbs, vegetable, fruits, and flowers.  (Currently, Hacienda Del Sol's gardens produce more than 70% of the herbs used for cooking at The Grill.)  There's also an amazing courtyard, picture-perfect for an intimate destination wedding.
After settling in and watching the serene sunset, definitely check out the resort's Terraza Garden Patio and Lounge, where you can snack on flavorful food, sip on scrumptious concoctions, and be serenaded by live music.  (Apparently, the lounge is arguably the best dining patio in Tucson, and I don't beg to differ.)  Then get a good night's sleep, and wake up to the sound of silence and a view you wouldn't believe.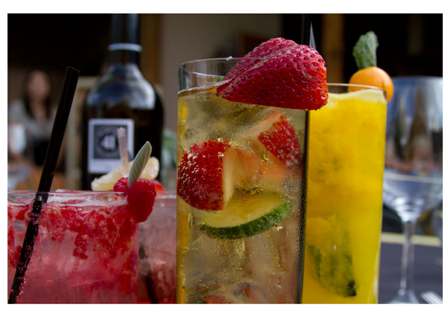 Hacienda Del Sol resides on 34 scenic acres amidst the Santa Catalina Mountains.  You can hike, bike, and golf within minutes, but if you're feeling frisky, ask for Lucky. 
Let me explain.
The fiancé has lived in Arizona more than 30 years, and in all those years, has never been on a horse.  As you can likely assume, he was a little hesitant when I told him we were going riding, but you have to try everything once, right?  Well, Hacienda Del Sol arranged an awesome horseback ride through the desert.  I was assigned a blond palomino named Lucky, and the fiancé got a brown horse named Precious.  Our hour-long ride was surely the highlight of our trip—our guide even taught us to trot!  Turns out, the fiancé just might have a little cowboy at heart.
Following the ride, came the massages; the resort offers adorable private pampering rooms for Valentine's Day lovebirds.  (The gals surely know how to work out those horseback riding kinks!)
Truth be told, it's nice to feel far away once in a while, even if it's only a mere drive from the Valley. At Hacienda Del Sol, you're forced to relax and enjoy the calming amenities—it's tough not to let-go and put all worries aside.  But before you call it a wrap, end your weekend retreat at the resort's Sunday brunch, voted Tucson's best brunch for several years.  Fill up on a variety of entrée selections, and toast to your V-Day getaway over complimentary bubbly.
To book your stay, visit www.haciendadelsol.com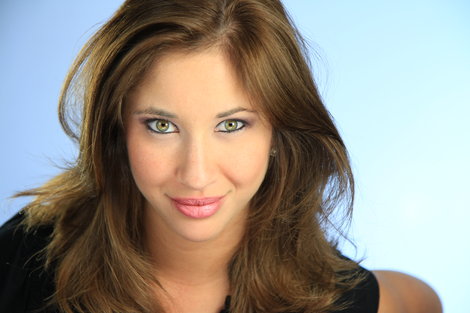 www.facebook.com/onthescenewithnadine