Page 1 of 2
Television personality and AZfoothills.com columnist Nadine Toren is scouring the area, finding savvy Valley features, bringing readers "on the scene." Every day she'll introduce you to celebrities, athletes, and give you an inside look into local events and hot spots. She'll touch on topical issues, and keep AZ fans posted on all the big talkers around town.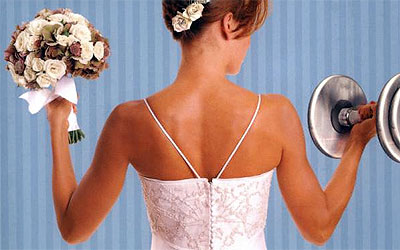 We're entering Valley wedding season, and no doubt, you'll want to look your best on your big day.  Here's how one fitness expert is helping brides-to-be get in A-list shape. 
Consider the grocery store a track; that, according to Jeremy Scott, owner of Scottsdale's Jeremy Scott Fitness.  Yep, he says you should avoid all those inner-aisles—you know, the ones stocked with goodies, pastas, cereals, crackers, and cookies.  Instead, you'll want to make the outer-lining of the store your new BFF—go figure, it's the nutrient-enriched area full of fruits, veggies, proteins, and dairy. 
"To burn fat, you have to focus on what you eat.  When it comes to exercise, you should do compound movements, not isolating any body parts," said Jeremy Scott, fitness connoisseur.
Jeremy Scott launched his personal training biz in 2009 located in Kierland.  He grew up a sports-nut, earning a number of fitness certifications.  When he's not getting Valley guys and gals into top-notch shape, Scott is sharing his expertise in big-name publications, including Men's Fitness, Muscle and Fitness Magazine, and Fitness Model World.
"It's important to put a high value on health and take pride in your self image," he said.
And you can train with the looker himself—truth be told, Scott is easy eye candy. (See page two for his picture!) Scott offers an array of services including 1-on-1 TLC, boot camps, youth training, sports training, and customized nutrition programs.  But what really caught our eye is his unique bride-to-be curriculum—an in depth plan of action for anyone looking to get-fit-quick and keep the weight off.
"Brides are great because they have immense motivation.  They want to look awesome in pictures."
And lucky for us, Scott is dishing his bride-to-be secrets for us, free of charge.