Television personality and AZfoothills.com columnist Nadine Toren is scouring the area, finding savvy Valley features, bringing readers "on the scene." Every day she'll introduce you to celebrities, athletes, and give you an inside look into local events and hot spots. She'll touch on topical issues, and keep AZ fans posted on all the big talkers around town.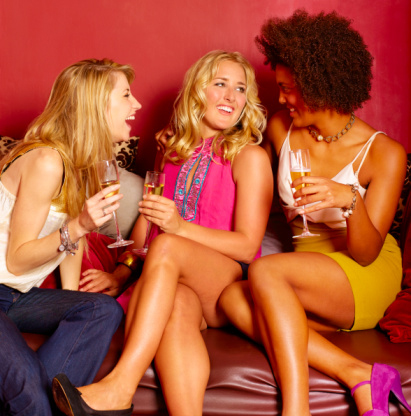 There's nothing like a soiree with your soul sisters, and now one Valley group is linking lovely ladies with one another.  Check out the details of the hottest girls-only club, Girlfriends Galore.
Craving some girl time?  Well, if you're looking for a fabulous Phoenix-area posse, we've got the must-join group for you.  It's called Girlfriends Galore, and it's a hot hub for savvy Valley vixens looking for networking opportunities and friendship.
"We're all about fun.  We aim to provide like-minded women multiple avenues to build deep, long lasting relationships with a variety of women," said Heather Lundervold, CEO/founder, Girlfriends Galore.
Heather moved to AZ to attend ASU a number of years ago.  After graduating college, she spent nearly ten years running a flower shop, but instead, found she needed more room to bloom herself.  So in August 2010 (one year ago!) the 30-something Scottsdale gal launched Girlfriends Galore, with high hopes of connecting successful women all around the world.
"We hope to open more than 20 branches across the country, and we're in the works of launching a group in Singapore," said Lundervold.
But the company is Phoenix-based.
Lundervold realized she needed more girls-only time, so at first, she initiated a monthly "Girls Night Out."  That consistent estrogen-filled Q.T. soon became a growing success—lost friendships were rekindled and new friendships began.  Her once-a-month events became so successful, that Lundervold decided to open up her business to the community, and so began Girlfriends Galore. 
"We have thousands of members nationwide, and we average about 50 Valley residents at each event."
Between work, kids, family, and every day life, Lundervold swears some good old girl-time is a must.  That's why she now holds a handful of monthly events.
"Members can attend our get-togethers free of charge, but drop-ins have to pay a minimal fee."
And membership is quite affordable—right now, it's $50 a year. 
The sorority-like society has all types of women, typically ranging from mid 20s-mid 50s in age.  Many are entrepreneurs, while others, are average 9-5ers.  And there's an array of social events to attend. 
"We do a lot of activities suiting the needs of all our members."
Once a month, you can attend the Ladies Lunch, located at a different Valley venue each time.  There are also Fabulous Fridays

, where a featured speaker will discuss an educational, inspirational topic.  Of course, there's a monthly happy hour; yep, there's nothing like boozing with new-found friends.  And Lundervold also plans an annual girlfriends getaway, for tons of fun, rest, and relaxation. 
"One of my favorite events is Design Your Life Personal Development

.  It's at an intimate home setting, focusing on enhancing friendships, as well as personal and business development.  Wine and dessert included."
And the men aren't being left out all-together.  Every quarter, Lundervold  holds co-ed events, including

January's Winter Wonderland, April's Spring Fling, August's Fun in the Sun, and November's Fall Extravaganza.  Both sexes can attend these soirees and they're not member exclusive.