Television personality and AZfoothills.com columnist Nadine Toren is scouring the area, finding savvy Valley features, bringing readers "on the scene." Every day she'll introduce you to celebrities, athletes, and give you an inside look into local events and hot spots. She'll touch on topical issues, and keep AZ fans posted on all the big talkers around town.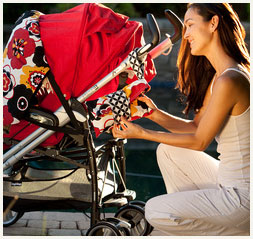 Are you a trendy mama looking to sport stylish green swag?  Well, we have the scoop on a hot hub where you can stock up on all things organic. 
If you're a hot mama looking to go green, we've got the hot hub for you to stock up on organic goods.  Take a seat in front of your computer and head to
www.bebeecoposh.com
, a virtual luxury boutique for babies, courtesy of Chandler mom, Stephanie Lee.
"I never had much interest in green products until I had Sophia.  Now it's all I want," said Stephanie Lee, founder of Bebe Eco-Posh.
When Stephanie had Sophia, her hobby became hunting for natural baby gear.  She'd surf the web looking for all things organic, but realized there was no central site for stylish green swag.  That's why Lee launched Bebe Eco-Posh in November 2010, and now it's the go-to place for moms looking for trendy stuff.
"I especially try to promote local businesses," said Lee.
Turns out Phoenix has a lot of mamas creating contemporary green goods.  Bebe Eco-Posh features a number of Valley-based products that should be on every organic mom's hot list.
For example, you'll want to get your hands on a Buggy Shady.  The Scottsdale company says it's the world's most fashionable stroller shade—the first designer shade that works on both your infant car seat and stroller.  The Shady blocks the heat, offering 75% UV protection.  It starts at $50.
You'll also want to test out a skincare line from a chic Chandler company, Susan Brown's Baby.  The products even come in a great wooden bucket that can be reused in the nursery.
Scottsdale-based Bumkins is another mother's must-have; it offers fine 100% green baby goods.  All Bumkins clothes and toys are lead-safe, PVC, phthalate and BPA Free
"Bebe Eco-Posh only promote safe, certified organic, products free from harmful chemicals."
Lee says a main must-have flying off her virtual shelves are swank diaper-bags ranging from $60-$200. As for brands, the big one causing quite a buzz is Under the Nile.
"Under the Nile products are made from 100% hand-picked organic cotton, grown exclusively in Egypt."
The site has it all--travel gear, nursery décor, organic apparel, bath accessories, nursing necessities, toys, and gifts.  It's the perfect place to go green in a savvy Valley sorta way.
For more information, visit www.bebeecoposh.com.