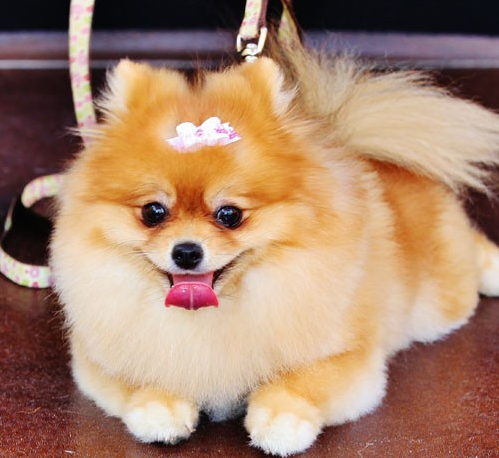 October, 2011 (Scottsdale, Ariz)- Cocoa Puff, a one year-old Pomeranian from Scottsdale, Arizona, is Arizona Foothills' Dog Days of Summer 2011 winner! After a month of web voting on AZFoothills.com, Cocoa Puff took the trophy with 169,994 votes and earned the title of Most Adorable Dog!
With over 350 entries, Dog Days of Summer 2011, was even more successful than last year! The contest was a little different from the year before. The five dogs with the most votes did a meet and greet with four, Valley, doggie-loving judges. Cocoa Puff had the second most votes. Judges included:
Kathy Shocket, AZ Insider editor for AZFoothills.com and heavily involved in dog rescues and rehabilitation in the Valley.
Johnathon Norville, Advocate for the Canine program at the TGen Foundation in Phoenix.
Jackie Bacha, Owner and founder of Oh My Dog Boutique in Old Town Scottsdale.
Bobbie Underwood, Owner of Sonoran Desert Pet Resort in Anthem.
Cocoa Puff and her parents will receive $200 in Vestar gift cards, good at Tempe Marketplace and Desert Ridge Marketplace, $100 for pet boarding/grooming at Sonoran Desert Pet Resort, Doggie products plus one free pet concierge afternoon rendezvous and free grooming, conditioning and pawdicure treatment at Oh My Dog Boutique and Spa.  Last but not least, a professional photo shoot with Arizona Foothills, web photo feature, his photo in Arizona Foothills Magazine and the title of Top Dog!
The four runners up were Dino with 181,498 votes, Baci with 168,881 votes, Jasmine with 163,936 votes and Molly with 163,634 votes. To see entrants and the vote tallies, click here.
In addition to casting calls and web voting, a finale event was held at Oh My Dog Boutique and Spa in Scottsdale on Wednesday, September 28. The top five dogs had a meet and greet doggie date with the panel of judges.
We look forward to another year of success for Dog Days of Summer 2012 next summer! To enter, email contest@azfoothills.com.
More about Arizona Foothills Magazine's Dog Days of Summer contest
The heat during Arizona summers is enough to make any of us howl. In honor of the dog days of summer, AZFoothills.com had their first-annual search for Arizona's most adorable dog. After reviewing hundreds of Web entrants and entrants from casting calls at Tempe Marketplace and Desert Ridge Marketplace, Arizona Foothills posted all the photos to the Web, leaving it up to readers to determine the most adorable dogs in the state.
Arizona Foothills Magazine and AZFoothills.com are dedicated to providing resourceful information on dining, entertainment, homes, fashion, culture and events in Arizona. Arizona Foothills Magazine is published monthly and is audited by the AuditBureau of Circulations (ABC).
Scottsdale-based Media That Deelivers, Inc. (www.mediathatdeelivers.com) is a leading luxury magazine publisher that produces a luxury collection of magazines, incuding the monthly Arizona Foothills Magazine, Arizona Foothills Tucson Online and Estates West Online. The company also publishes an array of custom products for world-renowned resorts.