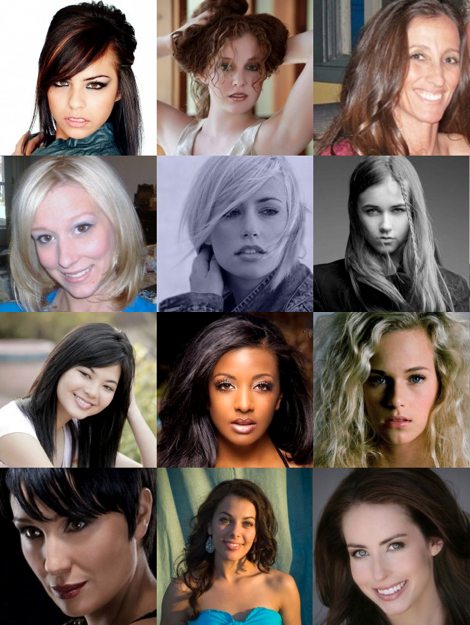 The Top Twelve Finalists, listed respective to votes
Row One: Arlene H., Courtney B. and Christine K.,
Row Two: Cassandra W., Leah L. and Lauren M.
Row Three: Tori T., Allona M. and Tori Z.
Row Four: Celestial W., Mackenzie M., and Kimberly H.
October 21, 2010 (Scottsdale, Ariz)- The Face of Foothills Fourth-Round Finalists have voted their way to the top from more than 280 semi-finalists to only 12. October 20 marked the end of the fourth round of voting, and now only one round separates these ladies from the finale.
October 22 at noon, the five-day Finalist Face-Off will begin, putting the current Top Twelve Finalists head-to-head with the three finalists chosen at Westcor's Casting Calls this past spring. The AFM panel chose three ladies they felt were great representation of the publication, and they were able to bypass four voting rounds.

Ilana, Lauren and Tess, the three models chosen at the Westcor Casting Calls
The five-day vote-off will narrow these fifteen models to only ten, who will participate in the Face of Foothills Finale and be up for the Grand Prize! The prize includes a cover of a 2011 issue of AFM, a fully-styled six-page fashion spread and see their face featured on the AZFoothills.com header, Twitter page and AFM E-Newsletter headers for one full year. They'll also receive $5,000 in luxury jewelry from Molina Fine Jewelers, $1,000 cash, a weekend stay in a luxury Valley resort, spa treatments, $500 to bebe, spray tanning for one full year, a whitening session courtesy of Dr. Joyce Bassett, a year membership to Crossfit Scottsdale and Tasti-D-Lite frozen dessert for one year.
To view voting pages and vote, click here.
To RSVP to the finale party, click here.
Arizona Foothills Magazine and AZFoothills.com are dedicated to providing resourceful information on dining, entertainment, homes, fashion, culture and events in Arizona.Arizona Foothills Magazine is published monthly and is audited by the AuditBureau of Circulations (ABC).
Scottsdale-based Media That Deelivers, Inc. (www.mediathatdeelivers.com) is a leading luxury magazine publisher that produces a luxury collection of magazines, incuding the monthly Arizona Foothills Magazine, Arizona Foothills Tucson Online and Estates West Online. The company also publishes an array of custom products for world-renowned resorts.