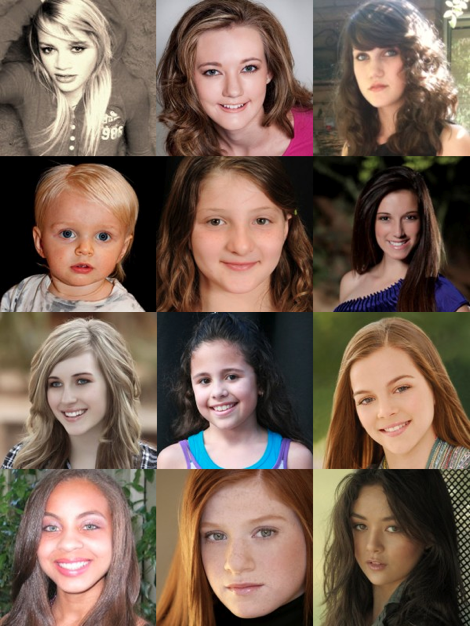 The Top Twelve, listed respective to votes
Row One: Rain D., Hayley V. and Jordan R.,
Row Two: Zachary R., Olivia D. and Emily M.
Row Three: Lori S., Audrey C. and Madison M.
Row Four: India G., Taylor C., and Leihala I.
October 21, 2010 (Scottsdale, Ariz)- The Future Face of Foothills Final Twelve models have been chosen! Voting concluded October 20 at noon to determine the twelve models who will be showcased at the Face of Foothills Finale November 4.
Voting concluded Wednesday for the final round in the first-ever Future Face of Foothills contest! For the fourth straight round, Rain D. yielded the most votes!
The final twelve, who have endured four rounds of Web voting over the course of three months, will all be up for the grand prize- a photo shoot and appearance in Arizona Foothills Magazine, a Web feature, $500 scholarship courtesy of Arizona Foothills and a Westcor gift card.
The contest originated when Arizona Foothills held Casting Calls for their second-annual model search at fourteen Westcor shopping centers and were overwhelmed with younger contestants. The Future Face of Foothills contestants are all under 16 years of age.
To RSVP to the finale party, click here.
Arizona Foothills Magazine and AZFoothills.com are dedicated to providing resourceful information on dining, entertainment, homes, fashion, culture and events in Arizona. Arizona Foothills Magazine is published monthly and is audited by the AuditBureau of Circulations (ABC).
Scottsdale-based Media That Deelivers, Inc. (www.mediathatdeelivers.com) is a leading luxury magazine publisher that produces a luxury collection of magazines, incuding the monthly Arizona Foothills Magazine, Arizona Foothills Tucson Online and Estates West Online. The company also publishes an array of custom products for world-renowned resorts.