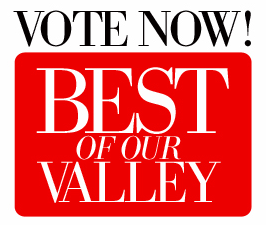 October 1, 2010 (Scottsdale, Ariz.)- Voting is live for AZFoothills.com's second-annual Best Of Our Valley contest! October 1 through November 30, more than 2,800 nominees will duke it out for the top spots in nearly 300 categories like Most Fashionable, Best Engagement Ring Spot, Best Coffeehouse and Best Special Event Venue. And this year, Arizona Foothills is honoring the most-loved person, place or thing in the Valley by putting it on the cover of the Best Of Our Valley issue!
The one nominee with the most total votes at the end of the two-month long contest will be dubbed "The Coolest Thing in the Valley" and be featured on the cover of the Best Of Our Valley March 2011 issue in an Arizona Foothills-styled shoot.
Voting begins October 1 at 12:00:01 p.m. and concludes November 30 at 11:59:59 a.m., with one vote per computer per day permitted. For full Rules & Regulations, click here.
Click the button below to get started!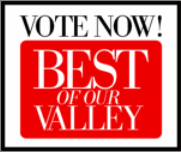 Each year AZFoothills.com asks readers what their favorites are, offering thousands of options chosen by nominations, editors and focus groups. The contest is answered with millions of votes that determine the Valley's favorites. The best of each category this year will be featured in the March 2011 issue, a tell-all guide to the coolest people and places in the Valley of the Sun.
"We've been hard at work on this year's Best Of contest," says President & Publisher Michael Dee, "We have more than two times the number of categories, with more than a thousand new nominees. We can't wait to see how this year pans out."
AZFoothills.com is the Valley's fastest-growing Web site. Arizona Foothills Magazine and AZFoothills.com are dedicated to providing resourceful information on dining, entertainment, homes, fashion, culture and events in Arizona. Arizona Foothills Magazine is published monthly and is audited by an accredited outside company.
Scottsdale-based Media That Deelivers, Inc. (www.mediathatdeelivers.com) is a leading luxury magazine publisher that produces the monthly Arizona Foothills Magazine, AZFoothills.com and EstatesWest.com. The company also publishes an array of custom products for world-renowned organizations like The Westin Kierland.