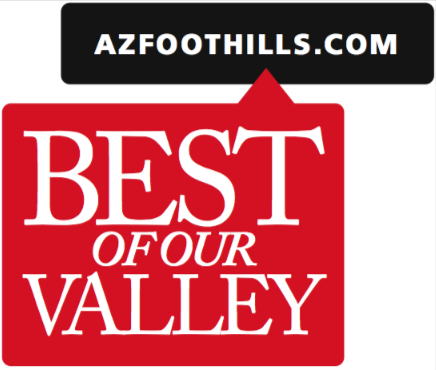 September, 2010 (Scottsdale, Ariz.)- This October and November, thousands of businesses, professionals and individuals will duke it out for the top spots in AZFoothills.com's annual Best Of Our Valley Web contest- determining the greatest in more than 300 categories like Best Salon, Most Influential Man in the Valley, Best Chips & Salsa and Best Hike. But this year, Arizona Foothills is taking it a step further and asking: What is The Coolest Thing in the Valley?
This year, AFM is upping the ante and adding a new element to the Web contest- the person, place or thing with the most votes at the end of the two-month long contest will be dubbed "The Coolest Thing in the Valley" and be featured on the cover of the Best Of Our Valley March 2011 issue in an Arizona Foothills-styled shoot.
Each year AZFoothills.com asks readers what their favorites are, offering thousands of options chosen by nominations, editors and focus groups. The contest is answered with hundreds of thousands of votes that determine the Valley's favorites. The best of each category this year will be featured in the March 2011 issue, a tell-all guide to the coolest people and places in the Valley of the Sun.
To nominate a business person or thing, e-mail bestof@azfoothills.com your choices by September 15, 2010. The contest will run from October 1-November 30, 2010. For full Rules & Regulations, click here.
"The Coolest Thing in the Valley adds a whole new element to the Best Of contest," says President & Publisher Michael Dee, "Now once people have their own category won, they can shoot for the big prize."
AZFoothills.com is the Valley's fastest-growing Web site. Arizona Foothills Magazine and AZFoothills.com are dedicated to providing resourceful information on dining, entertainment, homes, fashion, culture and events in Arizona. Arizona Foothills Magazine is published monthly and is audited by an accredited outside company.
Scottsdale-based Media That Deelivers, Inc. (www.mediathatdeelivers.com) is a leading luxury magazine publisher that produces the monthly Arizona Foothills Magazine, AZFoothills.com and EstatesWest.com. The company also publishes an array of custom products for world-renowned organizations like The Westin Kierland.