Page 1 of 2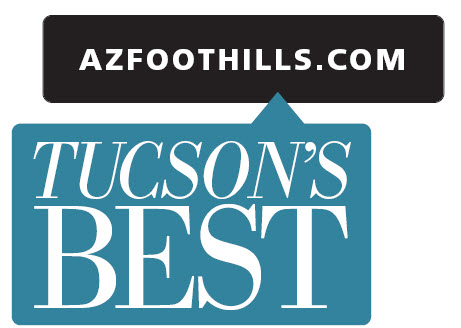 Since 1997, Arizona Foothills Magazine has celebrated the latest and greatest in Arizona luxury. We've featured everything from the finest resorts and travel destinations to shopping and beauty to fabulous eateries and places to live. Almost 14 years later, our mission is no different! We still strive to unveil what's up-and-coming, give credit where it's due to those who deserve recognition and provide useful information to our loyal readers.
AZFoothills.com's Tucson's Best
Last year, we asked our AZFoothills.com readers to help narrow down the hundreds of restaurant, dining and fun options in Tucson to an elite list of the very best. We had hundreds of Nominees in more dozens of categories submitted to the contest, which were voted on over the course of the spring by our AZFoothills.com readers. As we ended voting on April 10, 2010, we were left with dozens of fan favorites and some of the best-kept secrets the Old Pueblo has to offer. We are featuring these winners in an AZFoothills.com's Tucson's Best feature right here on AZFoothills.com.
Nominations
This year, we want you to tell us what you love in T-Town. Whether it's a hole-in-the-wall eatery, ritzy resort, flavorful margarita or the best handbag shopping destination, tell us by e-mailing your Nominations to bestof@azfoothills.com before January 15, 2011.
Our Nominations focus groups and editors will scrutinize over the options, ensuring they fit the standards of the luxury site, and will submit the final list for voting.
Voting
Voting will begin February 10, 2011 at NOON and end April 11, 2011 at NOON. Voting will be one vote, per category, per computer, per day.
Winners Will Receive
In Spring 2011, AZFoothills.com will complete their second-annual AZFoothills.com's Tucson's Best story, featuring and naming the winners- the story will remain online indefinitely and winners will receive additional promotional opportunities from AZFoothills.com.
More Information
Click here to read the full Rules & Regulations.
Questions & Comments
All questions and comments must be submitted in writing to bestof@azfoothills.com. Due to an extremely high volume of e-mails, not all will be directly returned, though frequently-asked questions will be addressed. Phone calls and drop-ins will not be accepted.