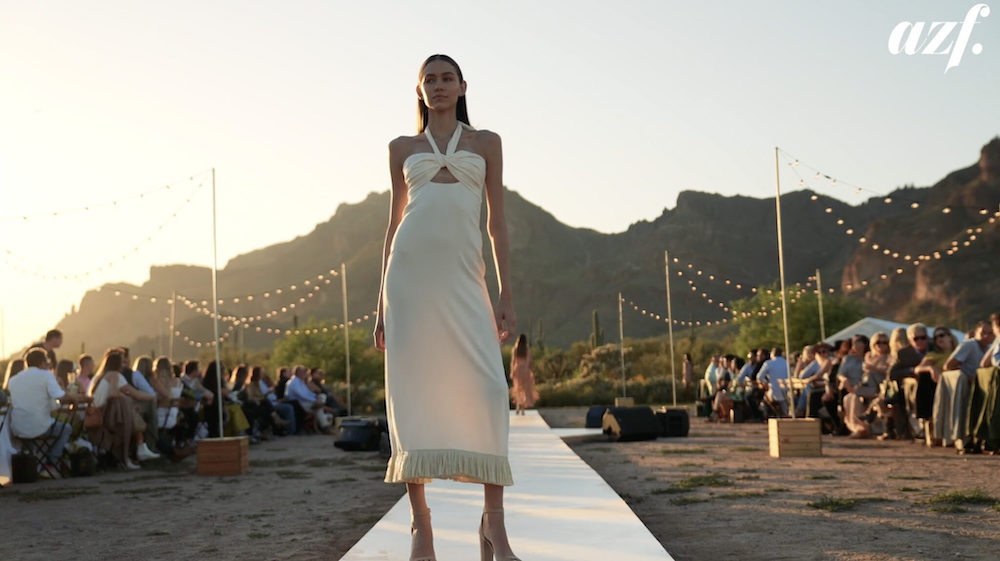 After a sold-out dinner and fashion show, azf and Cloth & Flame are excited to make Fashion in the Desert an annual event where high fashion and innovative culinary creations collide.
Beneath the twinkling lights, guests enjoyed an evening of fashion, music, cuisine and connection on April 3, 2022 with a delicious multi-course dinner crafted by Cloth & Flame executive chef Nick Rusticus, while models from The Agency AZ and Margaret Merritt Productions walked the open-air runway in the latest high-end fashions from Saks Fifth Avenue with the Superstition Mountains serving as a stunning backdrop.
As the sun set, guests danced the night away underneath the stars to live music from the acclaimed Phoenix Afrobeat Orchestra that gave an exclusive performance. A portion of ticket proceeds also benefited Harvest Compassion Center, the azf 2021 Nonprofit of the Year.
Stay tuned for more information on the 2023 Fashion in the Desert event, a truly one-of-a-kind experience and collaboration that showcases desert style like you've never seen it before.
Read more about the 2022 Fashion in the Desert event here and view a complete event photo gallery here.
About azf
azf continues to deliver on its promise to be "more than a magazine" with azfoothills.com ranked one of the top 10,000 most-visited sites in the U.S. alongside azf social channels, which boast a combined 500,000+ followers in addition to azf's well-known contests and in-demand special events hosted throughout the year. azf shares fresh, new content daily on azfoothills.com and through informative E-Newsletters that reach 70K-plus opt-in subscribers and counting.
Click here for more information on advertising opportunities or email This e-mail address is being protected from spambots. You need JavaScript enabled to view it .
Sign up for the monthly publication and E-News here.
Follow azf on Instagram here.