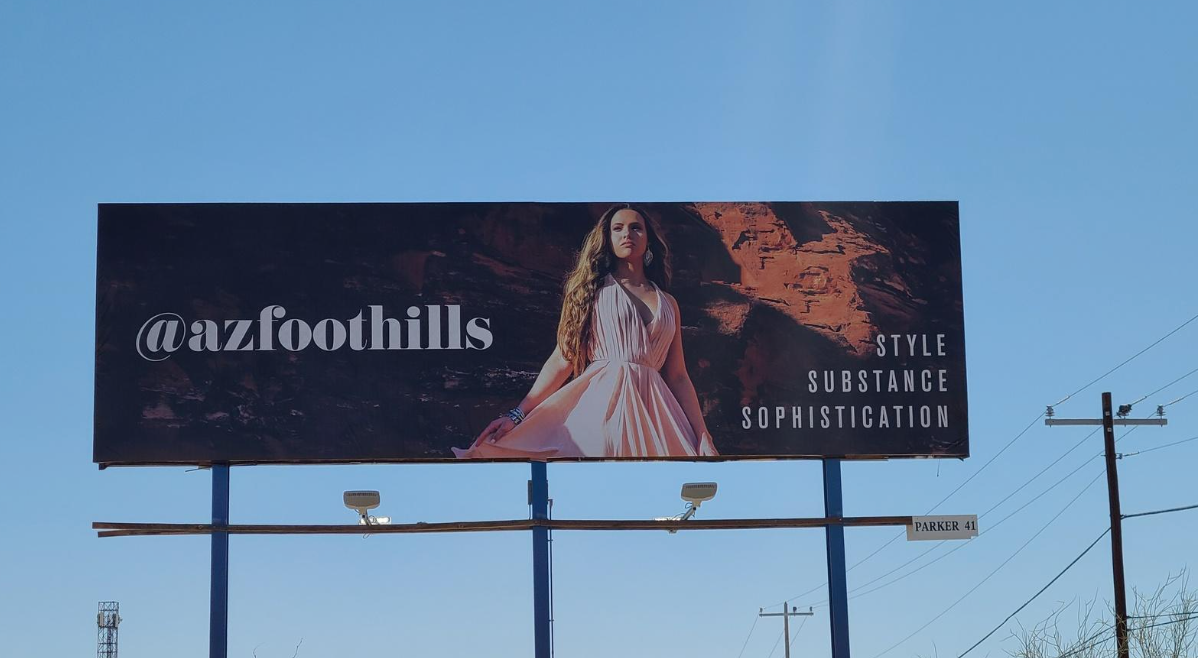 Things are heating up here at AZFoothills and we aren't talking about the Arizona weather! After the debut of the widely popular Best of Our Valley issue a few weeks ago, AZFoothills is keeping the ball rolling with more reveals!
Travelers along the I-10 highway between California and Arizona can expect a lot more style, substance, and sophistication on their route over the next few years. AZ Foothills, the Valley's #1 authority on luxury lifestyle, has placed not one, but TWO colossal billboards along the interstate, showcasing the current Face of Foothills, Abigail Stevenson and other gorgeous Arizona models.
"Since chosen to represent FOF, I hope to do my best to help the magazine shine through any involvement I may have. I see being part of the magazine as an opportunity to lead young girls and women by example and showcase the possibilities of what a woman can do and just how much fun it can be along the way," said Stevenson.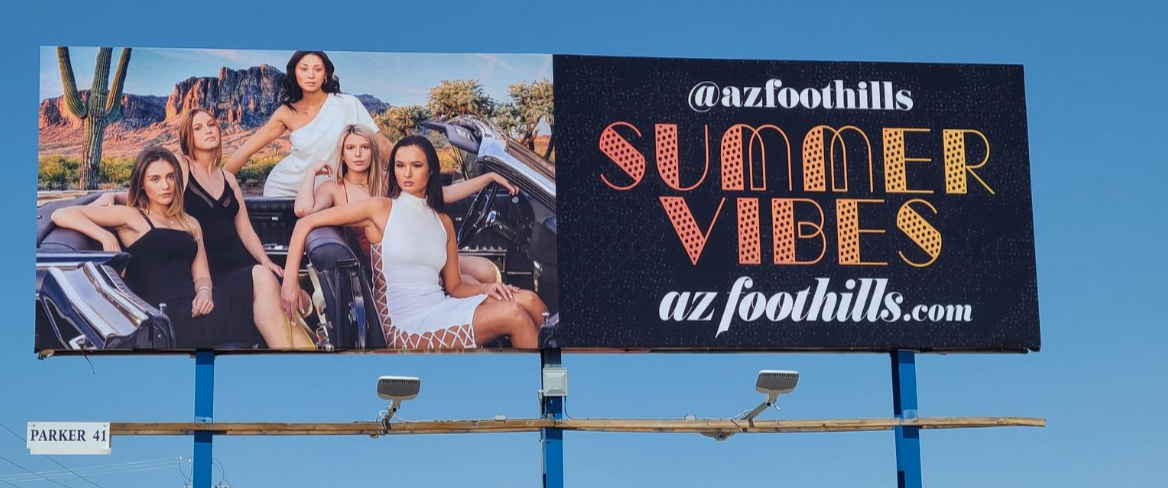 As a Sedona native, Stevenson spends her time hiking, fishing, snowboarding and anything else the great outdoors can offer. When she isn't modeling or breaking a sweat outdoors, Stevenson also has a passion for special effects makeup! As a part of her dream of becoming a professional in the fitness industry, she intends to perfect her makeup craft and work on television/movie sets.
Get to know Abigail Stevenson and read more about her in our interview on AZFoothills.com.
The 12'x40' roadside sign located at MilePost 17 on I-10 facing west for eastbound traffic will be seen by approximately 25,000 cars per day totaling more than 18 million impressions over the next two years. Even nighttime travelers will see the AZ Foothills messaging with lights that run from dusk till dawn daily.
About AZFoothills Magazine
As one of the top ten thousand most visited sites in the US, AZ Foothills remains committed to producing valuable and timely content across all its channels, including social media where the brand connects daily with close to one million fans. In recent weeks, AZFoothills.com also has the Valley's most widely distributed E-Newsletter series in the state, providing useful and uplifting articles on events, restaurants, real estate, interior design, and more.
The newsletters are sent four times per week to 93k subscribers. Best of Our Valley content will be included in the regular enews rotation as well as on @bestofourvalley, the publication's Instagram account dedicated exclusively to sharing contest winners with more than 100k followers and on AZ Foothills' main handle @azfoothills with more than 500k followers.
About Media That Deelivers Inc.
Scottsdale-based Media That Deelivers, Inc. (www.mediathatdeelivers.com) is a leading luxury magazine publisher that produces many titles in its luxury collection of magazines, including the monthly Arizona Foothills Magazine, annual InArizona, InMexico Magazine, and InMexico.com. The company also publishes an array of custom products for world-renowned organizations.
Read the 2021 Best of Our Valley issue here.
Learn more about Best of Our Valley and how to nominate here.
For more information on advertising opportunities or to purchase a print copy of the magazine email This e-mail address is being protected from spambots. You need JavaScript enabled to view it .
Sign up for the monthly publication and E-News here.